U.K. Rating Cut Two Levels by S&P, One by Fitch After Brexit
by and
S&P cites risks to policy framework, constitutional issues

52% of Britons voted to leave European Union in referendum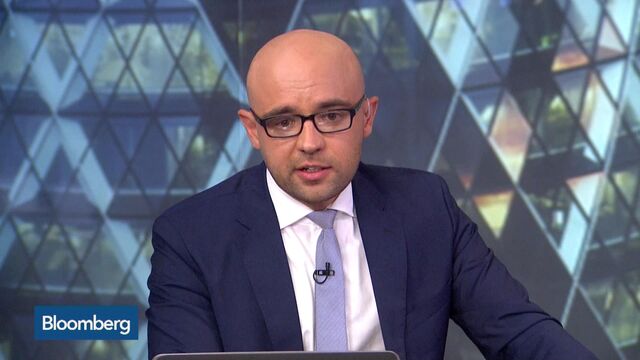 The U.K. was stripped of its top credit grade by S&P Global Ratings, and Fitch Ratings also lowered its rank, the latest crushing verdicts on the country's decision to leave the European Union that has left it in political and economic paralysis.
S&P reduced the grade by two steps to AA from AAA, citing the risk of a less predictable, stable, and effective policy framework in the U.K. Fitch cut its credit rank by one step, to an equivalent level. Both have negative outlooks.
The downgrade "reflects the risks of a marked deterioration of external financing conditions" and constitutional issues arising from the majority of voters in Scotland and Northern Ireland having opted to remain in the EU, according to S&P. Fitch cited the likelihood of "an abrupt slowdown" in economic growth.
"What we've observed now in the context of this referendum and the Brexit vote is such that we do no longer think that the institutional strength of the U.K. is what we had been used to before," Moritz Kraemer, S&P's global sovereign chief ratings officer, said in an interview on Bloomberg Television. "This is a major event that has just occurred."
The last Group of Seven sovereign to face a two-notch reduction by S&P was Italy as the euro-area debt crisis mounted in January 2012. Today's downgrade comes on a day when investors flocked to U.K. government bonds amid speculation the Bank of England will be forced to cut interest rates to prop up the economy. The 10-year gilt yield dropped below 1 percent for the first time.
S&P left the U.K.'s rating on negative outlook, reflecting the risks to its economic prospects and the pound's status as a reserve currency, as well a possible breakup of the U.K. if Brexit prompts another referendum on Scottish independence.
The downgrade may just be the first as the biggest rating companies reconsider the U.K. in the light of last week's referendum result and the resulting economic and political repercussions. Moody's Investors Service lowered its outlook on the country to negative from stable on Friday. It has the U.K. one step below its top grade at Aa1.
The move comes after a day of deepening political division in Britain. Prime Minister David Cameron announced last week that he will step down, while the opposition Labour Party faces fresh turmoil after the resignation of senior party figures.
Since the results of the referendum were announced Friday, global markets have buckled, infecting every asset class, and sending the pound plunging the most on record. U.K. government bonds surged, pushing the 10-year yield below 1 percent for the first time, amid speculation the Bank of England will cut interest rates to a record low as soon as next month to ward off the risk of recession.
Before it's here, it's on the Bloomberg Terminal.
LEARN MORE