Rio Reaps Resource Rally Gains
by
Cost of insuring Rio debt down 33 basis points in one month

World's second-largest miner repaid debt, changed structure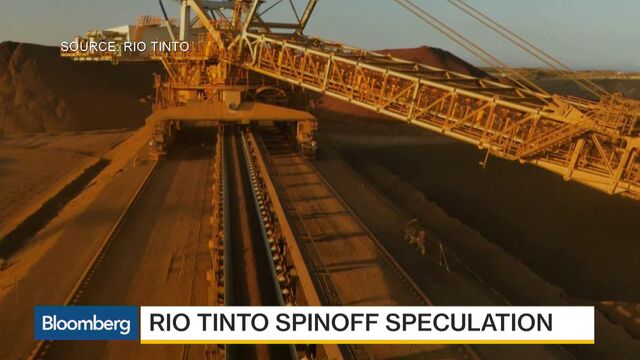 Rio Tinto Group creditors are taking comfort from the miner's decision to pay down debt and shake up management as a rally in commodities cuts default risk for global resource companies.
The cost of insuring the metal producer's bonds against non-payment has fallen 33 basis points to 165 basis points over the past month, the biggest decline among the 25 members of the iTraxx Australia index of credit default swaps, according to data compiled by Bloomberg as of Monday. The rebound in iron ore prices back above $50 a ton also helped Anglo-Australian peer BHP Billiton Ltd., which is the second-best performer in the benchmark gauge with a CDS decline of 20 basis points to 155.
Rio Tinto, the world's second-largest miner, is using cash generated from price gains in key commodities to reduce its borrowings and this month agreed to repurchase $3 billion of bonds following a total of $1.5 billion of buybacks in April and May. With Jean-Sebastien Jacques poised to take over as chief executive officer, the firm has also announced a revamp of its major divisions, a move that's prompted speculation it might sell assets or even mimic BHP's South32 Ltd. spinoff.

"The debt buyback is positive for credit and highlights just how well the iron ore business has done this year despite the earlier price collapse," said Chris Walter, a credit strategist at Commonwealth Bank of Australia in Sydney. "There was a more swift recovery than expected back to that $50 a ton range and obviously that short-term burst up to $70, but the margins are substantial and cash is being put to good use from a bond investor's perspective."
While the global market ructions stemming from the U.K. vote to leave the European Union took some of the shine off Rio Tinto's performance at the end of last week, the miner's bond protection costs remained 125 basis points below the level they were at in January when commodity prices were slumping.
CBA's Walter said that while the current level for Rio Tinto credit protection is still "too wide," there is potential for it to have "little bursts" toward 190 basis points. "Until we get a bit more confidence that iron ore is in that $45 to $55 range that we're expecting, volatility in CDS can remain," he said.
Rio Tinto declined to comment on its debt-market performance.
Market Stabilization
The Bloomberg Commodity Index, a gauge of returns on 22 raw materials, rallied from a record low in January to enter a bull market this month though remains about 50 percent lower than a 2011 peak.
Benchmark iron ore was at $53.86 a ton on Monday in China after dipping as low as $38.30 in December. Aluminum, Rio Tinto's most profitable segment after iron ore, has risen about 6 percent in 2016.
Signs that prices may be approaching a bottom have encouraged producers including Rio Tinto to prepare for future opportunities, and the appointment of Jacques to succeed Sam Walsh as CEO signals the company's intent to usher in a new growth phase after years of aggressive cost-cutting. BHP said on Monday that it will raise its annual exploration budget by more than a quarter to $900 million.
The recovery in raw materials is also enabling companies across the industry to get their balance sheets into better shape. Fortescue Metals Group Ltd., Australia's third-largest iron-ore producer, has made $2.9 billion of debt repayments in the past year and may reduce its pile by another "couple of billion," according to Chief Financial Officer Stephen Pearce.
Rio Rejig
With Jacques due to take the helm at Rio Tinto next month, the producer last week announced a reorganization of its asset portfolios into four product groups and named new heads for its iron ore and copper businesses. Sanford C. Bernstein has said the changes could mean Rio Tinto is looking to spin off a suite of unwanted assets from coal to uranium.
CBA's Walter said he thinks that Rio Tinto is more likely to sell some of its less profitable assets individually rather than engaging in a BHP-style spinoff.
The largest mining companies, including Rio Tinto and BHP, are winning benefits after cutting capital expenditures, working to strengthen their balance sheets and reducing operating costs, said Adrian Prendergast, a senior analyst at Morgans Financial Ltd. in Melbourne.
"Even without commodity prices rising, there's a good outlook," Prendergast said. "The resources sector as a whole is in a much better position than it was 12 months ago."
Before it's here, it's on the Bloomberg Terminal.
LEARN MORE