Rajoy Promises Spain He'll Deliver a Government Within One Month
by , , and
Premier faces tricky talks to form majority in parliament

Ciudadanos not ready to accept Rajoy will be prime minister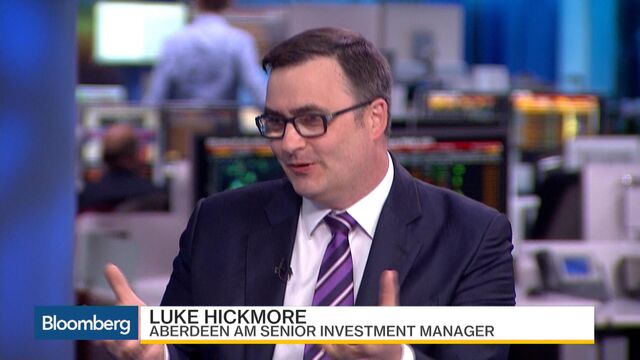 Caretaker Prime Minister Mariano Rajoy told Spaniards that he'll finally have the foundations in place for a new government within the next month after posting gains in Sunday's general election.
Rajoy's People's Party established itself as the most powerful force in the 350-seat parliament, increasing its representation to 137 seats from the 123 it held after December's election resulted in a four-way deadlock. The prime minister said he'll start talks with his rivals Monday as he seeks the additional support he needs for a majority.
"We should have a basic agreement in one month," Rajoy said in an interview with Cope radio Monday, adding that he is willing to talk with several political parties. "Spain deserves a stable and moderate government as soon as possible." Spanish government bonds jumped, pushing 10-year yields down by the most in eight months.
Spain is trying to forge a new political consensus to take the country forward after the trauma of the financial crisis. While the economy has been growing for the past 11 quarters following a five-year slump, unemployment remains above 20 percent, the government is facing a potential fine from the European Union for consistently breaching budget-deficit limits, and a wave of corruption allegations has damaged Rajoy's ability to lead a broad alliance.
Possible Partners
Rajoy's traditional rivals, the Socialists, fell to 85 seats from 90 last time out, while anti-establishment group Podemos was unchanged on 71. The liberals of Ciudadanos, Rajoy's most likely partner, slipped to 32 seats from 40.
As a result, the path to a 176-vote majority remains complicated. Ciudadanos could get Rajoy to 169 seats, and old-school horse-trading could potentially persuade nationalists from the Basque region and the Canary Islands to join. That gets Rajoy to 175.
Even the support of Ciudadanos may not be straightforward. The party's leader, Albert Rivera, said in the early hours of Monday he's ready to start talks with both the PP and the Socialists, but signaled that he still may not accept Rajoy himself as leader. Rivera said during the campaign he wouldn't back Rajoy because of the premier's alleged ties to a secret party slush fund. The prime minister denies any wrongdoing.
Brexit Volatility
"We aren't willing to accept that Mr. Rajoy will be the prime minister as a condition for starting talks," said Ciudadanos undersecretary Jose Manuel Villegas in an interview Monday with state-owned television channel TVE. "We want to talk about policies first."
Spanish politicians were grappling with their new political arithmetic as the aftershocks of the U.K.'s vote to leave the European Union continued to reverberate across financial markets. The pound extended its selloff near a 31-year low and European equities dropping to levels last seen in February. Spain's Ibex-35 dropped 0.4 percent after earlier rising as much as 2.8 percent.
"The U.K. opting out adds a lot of pressure for the parties to agree on a government," Carlos Aragones, who was chief of staff to former PP Prime Minister Jose Maria Aznar, said in an interview Sunday night.
Before it's here, it's on the Bloomberg Terminal.
LEARN MORE