Stocks, Pound Rally for First Time Since Brexit as Dollar Slips
by and
Energy shares drive rebound as oil leads commodity advance

Most Asian index futures signal gains amid debt retreat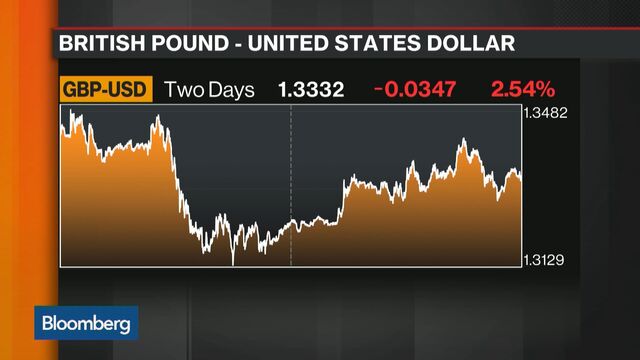 Equities, the pound and commodity prices all climbed for the first time since Britain's shock vote to leave the European Union amid speculation policy makers will take steps to limit any economic fallout.
A gauge of global shares extended gains late in the U.S. day for the biggest rally in a week, while the S&P 500 Index has its best day since March amid a rebound in energy stocks. Oil and industrial metals drove the Bloomberg Commodity Index up the most in seven weeks, with the dollar snapping a two-day climb as futures indicate the next move in U.S. interest rates is more likely to be a cut than an increase. The world's safest government bonds retreated with gold as the angst over the implications of Brexit eased.

The U.K's vote to secede from the EU last week spurred a flight to haven investments out of risk assets amid uncertainty over the implications of the decision and concern it could disrupt the global economic recovery. Investors are now looking to central banks for support as Britain dithers on a plan for its extrication from the bloc. Odds on a Fed rate cut by December are now 12 percent, according to the futures market, from zero before the U.K. referendum when there was a 50 percent probability of an hike by year's end.
"The ability to hold for the majority of the day probably gave otherwise patient buyers a reason to get involved," said Frank Cappelleri, executive director at Instinet LLC in New York. "Based on what happened the past two days, there was concern that you could expect a similar rollover later today. When that didn't happen, as you gain into the last hour of the day, it likely triggered some buy programs out there."
Stocks
The S&P 500 jumped 1.8 percent to 2,036.09 as of 4 p.m. in New York, rebounding from its lowest level since March. 
Citigroup Inc. and Bank of America Corp. advanced at least 4.3 percent as lenders recovered from their worst two days in almost five years. Facebook Inc. and Microsoft Corp. climbed more than 2 percent to boost the technology group as all but one energy stock in the S&P 500 climbed, with the sub-index leading gains.
Strong economic data helped distract investors from the ongoing fallout over Brexit. A report Tuesday showed the U.S. economy expanded more than previously projected in the first quarter, while consumer confidence increased in June for the first time in three months, according to a report from the New York-based Conference Board Tuesday.
The Stoxx Europe 600 Index jumped 2.6 percent in the wake of its biggest two-day slump since 2008, while the U.K.'s FTSE 100 gauge also advanced by that much, recovering some of its 5.6 percent slide over the previous two days.
Italian banks including Mediobanca SpA were among the biggest gainers after the European Commission said it was in touch with Italian authorities over possible support measures following the recent selloff. Barclays Plc rose after losing more than 30 percent in the past two sessions.
For more on U.K. liquidity operations since Brexit vote, click here
"Central banks give everyone a lot of comfort that everything is going to be OK," Michael Block, chief strategist at Rhino Trading Partners LLC in New York, said by phone. "That's part of it. The other part is just gravity, the longer this rally goes on, the further it goes."
EU leaders gathered in Brussels Tuesday for a two-day European Council summit pressed the U.K. to spell out how it wants to move forward after the referendum. They warned that delaying the period before Britain formally activates the EU's exit mechanism will prevent the start of negotiations over any future relationship.
Shares in Japan were buoyed by a Nikkei newspaper report saying a 20 trillion yen ($196 billion) stimulus proposal had been submitted to Prime Minister Shinzo Abe by a senior official in his party. The Nikkei 225 Stock Average added 0.1 percent.
Most futures on Asian indexes signaled gains for Wednesday, with contracts on Japanese, Australian and South Korean benchmarks rising at least 0.5 percent. Futures on Hong Kong equity gauges fell 0.3 percent in most recent trading.
Currencies
The pound strengthened 0.9 percent to $1.3344, supported by technical indicators that suggested the record two-day loss since Thursday's vote was excessive. The move comes even after the U.K. was stripped of its top credit grade by S&P Global Ratings. Fitch Ratings also lowered the country's rank.
The yen weakened by 0.7 percent to 102.75 per dollar amid the pullback in haven assets. The Bloomberg Dollar Spot Index, which tracks the greenback against 10 major peers, retreated 0.5 percent, following a two-day jump of 2.7 percent.
The currencies of commodity-exporting nations rallied, with the Colombian peso, Brazilian real and Russian ruble advancing along with oil.
Indonesia's rupiah gained 1.2 percent after the nation's parliament approved a tax amnesty bill to boost government revenue. The Korean won climbed 1.1 percent after the country announced a stimulus package of more than 20 trillion won ($17 billion).
Commodities
Bloomberg's commodity gauge rose 1.9 percent, the most since May 10 as West Texas Intermediate crude oil rebounded 3.3 percent to $47.85 a barrel. Zinc and nickel jumped more than 4 percent in London, while copper advanced 2.3 percent.
"We're catching our breath here," said Gene McGillian, a senior analyst and broker at Tradition Energy in Stamford, Connecticut. "A lot of the fears about the impact of the Brexit vote on the global economy have been priced in. There's a long timeline before this process is complete and a hope that cooler heads will prevail."
Gold fell from an almost two-year high, sliding 1 percent to $1,311.79 an ounce on speculation the recent gains have been overextended. In the previous two days, prices jumped 5.4 percent, the most since 2009.
Bonds
Treasuries snapped a two-day surge, with 10-year yields increasing three basis points, or 0.03 percentage point, to 1.47 percent. The rate was at 1.75 percent ahead of the U.K. referendum results. Two-year yields rose two basis points to 0.62 percent.
"The front end of the U.S. yield curve, i.e. two years, three years, has no value," BlackRock Inc.'s Rick Rieder said in an interview on Bloomberg TV. "To some extent, the markets have priced in a high probability that the Fed is going to cut rates. I don't think that's even in consideration at any time in the near future unless there's a real crisis that manifests itself."
Yields on Germany's 10-year bunds, Europe's benchmark securities, were little changed at minus 0.11 percent, while 10-year U.K. gilt yields climbed three basis points to 0.96 percent.
Meanwhile, rates on bonds of so-called peripheral nations continued to climb. The yield on Spain's 10-year bond tumbled 14 basis points to 1.31 percent as rates on similar-maturity Italian notes fell 11 basis points to 1.39 percent.
Before it's here, it's on the Bloomberg Terminal.
LEARN MORE