Overheating Risk Makes Japanese Banks Wary of Property Lending
by and
Tokyo Star Bank wants to boost ratio of short-term loans

Sumitomo Mitsui Trust sees increased downside market risks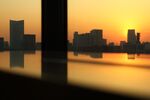 Japanese banks are reining in their exposure to the property market on concern the central bank's negative-rate policy is fueling overheating.
Tokyo Star Bank Ltd., whose predecessor was sold to Lone Star in 2001 after it failed following the burst of Japan's asset bubble, wants to cut the average length of property loans in its portfolio, said Michiya Fujii, head of the real estate finance department. Sumitomo Mitsui Trust Holdings Inc., the largest publicly-traded trust bank, says downside risks to prices have increased. Sumitomo Mitsui Financial Group Inc., the second-biggest lender, said last month that "an overheating in the real estate market" is one of the credit risks it's concerned about.
"We're watching the market carefully because we get a strong sense that the market is being pushed up mainly by a lot of lending," Tokyo-based Fujii said in an interview. It is difficult to see Tokyo property prices rising much further, he said.
Lending to the real estate sector rose to a record high in March, exceeding levels during Japan's asset bubble in the late-1980s, according to Bank of Japan data. While the BOJ said in April the market shows "no signs of overheating on the whole," it is monitoring the effects of negative rates as major metropolitan land prices climb. The price of prime Tokyo office space rose 11 percent in the first quarter from a year earlier, data from Daiwa Real Estate Appraisal Co. show, with investors seeking to hold anything but fixed income products.

While the average expected yield for central Tokyo office property fell to 3.7 percent in the first quarter, its lowest since at least mid-2007, that is still 82 times the 0.045 percent yield an investor can earn from buying 20-year government debt. Ten-year yields have dropped 10 basis points this month to minus 0.22 percent.
"Considering the downside risks, this is not a time when we can aggressively lend," said Katsumi Taniguchi, the head of the planning team of the real estate finance department at Sumitomo Mitsui Trust's main banking unit. "What's important is, when the time comes and the market turns, how much durability we've built into the portfolio."
Taniguchi said he doesn't see the market declining soon, though it's getting harder to read conditions and lower-quality proprieties are coming to the market.
For a look at how demand is emerging for possibly crime-tainted properties, click here.
Concern banks may be overextending in property loans comes as real estate investment trusts and property developers sell their longest-ever bonds. Nippon Building Fund Inc., Japan's largest REIT, sold 30-year debt this month at a coupon of 1 percent, while the largest developer Mitsubishi Estate Co. issued 40-year bonds at 0.789 percent.
Shinsei Bank Ltd. is making nonrecourse loans for hotel renovations and logistics facilities because such debt has higher yields than typical lending to the real estate sector, and on expectations that the increase in overseas visitors to Japan will boost such businesses, according to Shigeru Yamada, the general manager of the real estate finance division at the Tokyo-based bank.
"It is getting harder to find new properties for sale," said Takeshi Akagi, the head of research for Japan at Jones Lang LaSalle Inc. in Tokyo. "The overheating in property investments is being driven by the increase in lending more so than an improvement in fundamentals."
Before it's here, it's on the Bloomberg Terminal.
LEARN MORE