Odd Lots: The Highway Built by Oil Markets and Political Intrigue
by and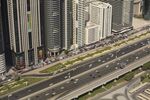 Subscribe to Bloomberg Odd Lots on iTunes Podcasts
Subscribe to Bloomberg Odd Lots on Pocket Casts 
Every week, hosts Joe Weisenthal and Tracy Alloway take you on a not-so-random walk through hot topics in markets, finance, and economics.

This week on Odd Lots we take a trip down one particular road on the Gulf pensinula to explore how sudden market shocks — and the political discord that sometimes comes with them — can help shape the physical space around us.
In the 1960s, the Middle East was in the throws of massive change as the oil boom sent some economies skyrocketing and left others in the (literal) dust. The construction of the E11 highway in the Trucial States — which would later grow into the United Arab Emirates (UAE) — became a lightning rod for political intrigue and developmental subterfuge involving British interests and the Arab League at a time of economic upheaval. Today the highway stretches across the UAE and links its two biggest cities, Abu Dhabi and Dubai.
Matthew MacLean is a Ph.D. Candidate in History and Middle Eastern Studies at New York University. He joins us to discuss the building of one of the UAE's first paved roads and the rise of the country's car culture.
Before it's here, it's on the Bloomberg Terminal.
LEARN MORE