Nomura, Daiwa Shares Fall as Brexit Compounds Earnings Concerns
by
Firms may have to move London operations to EU: SBI analyst

Nomura heading for biggest two-day drop since March 2011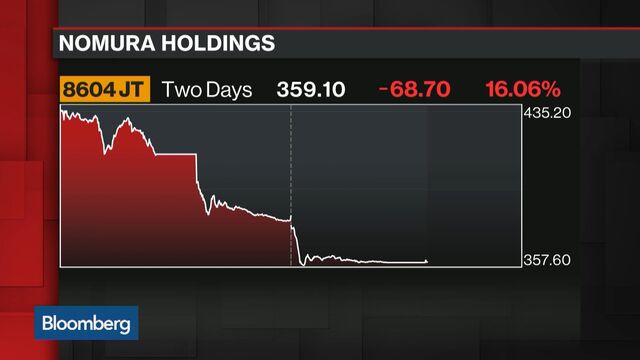 Japan's biggest brokerages fell in Tokyo trading, with Nomura Holdings Inc. heading for the biggest two-day slump since 2011 on concern that the U.K.'s exit from the European Union will further crimp earnings.
Nomura dropped as much as 6.6 percent after Friday's 11 percent decline. Daiwa Securities Group Inc. lost as much as 5.3 percent. An index of brokerages was the worst performer on the benchmark Topix, which climbed 1.2 percent as of 10:22 a.m. in Tokyo.
Shares of the Tokyo-based firms were downgraded on Friday evening by Jefferies Group LLC, which said the Brexit vote exacerbates concerns it already had about their earnings power as companies reduce bond and stock fundraising. Investors are also worried that Nomura and Daiwa may have to shift European operations from London to EU countries where they may find it harder to compete, said analyst Nobuyuki Fujimoto.
"It would be very costly to move offices, employees and their families to countries in the EU," said Fujimoto, a senior market analyst at SBI Securities Co. in Tokyo. "Nomura was attractive to large Japanese companies because of its ability to sell securities in Europe" from London, he said, adding that firms such as Deutsche Bank AG, UBS Group AG and French banks "have an edge" in the EU.

London's status as one of the world's biggest financial centers is under threat following last week's vote. The U.K. quitting the EU raises the prospect of financial firms operating out of the city losing so-called passporting rights that allow access to region's single market.
For an article on Brexit's potential impact on investment banks, click here.
Daiwa, which has about 400 employees in London, may have to form new operations in Europe, Chief Executive Officer Takashi Hibino said on Friday. In the event of a Brexit, Daiwa would have to set up a business in the EU that replicates or replaces some functions in London, the company said in a memo to employees before the vote.
Nomura said Friday that it is setting up a team to examine the implications of Brexit. The firm is closely watching the situation and will "take the necessary measures," it said. Japan's largest brokerage recently fired hundreds of London workers as part of a restructuring of its European equities business.
Mitsubishi UFJ Financial Group Inc., Japan's biggest bank, said Friday it has no intention to withdraw from the U.K., which will "continue to be an important market."
Before it's here, it's on the Bloomberg Terminal.
LEARN MORE