Nestle Hires Fresenius's Schneider to Succeed Bulcke as CEO
by
Outsider to take reins for first time in almost a century

Move supports company's goal of moving beyond its food roots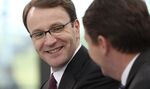 Nestle SA named Ulf Mark Schneider as successor to Chief Executive Officer Paul Bulcke, a surprise move that hands the reins of the world's biggest food company to an outsider for the first time in nearly a century.
Schneider, 50, will join from health-care provider Fresenius SE, where he has been CEO since 2003, Vevey, Switzerland-based Nestle said in a statement Monday after European markets closed. He will join on Sept. 1 and start as CEO on Jan. 1 after "an introductory period," the maker of KitKat chocolate bars and Nespresso coffee said.

The decision to hand the reins to Schneider, whose background is in the medical industry, supports Nestle's goal to move beyond its roots and redefine itself as a scientifically-driven nutrition and health company. Over the past five years, as packaged-food makers have been pilloried for contributing to a growing obesity crisis, Nestle has invested heavily in its health-science subsidiary, which seeks to commercialize discoveries made by its research arm in areas like metabolic health and Alzheimer's disease.
"This sends a huge message for the strategic direction of Nestle over the next 10-plus years," James Targett, an analyst at Berenberg, said in a note. Nestle also said it would integrate the health-science unit and a separate skin-health business so that both report directly to the CEO starting next year.
For a Businessweek story on Nestle's push into health care, click here
In tapping Schneider, Nestle spurned three internal candidates: Chris Johnson, who runs the company's cost-efficiency program; Laurent Freixe, who heads the Americas business; and Wan Ling Martello, the former finance chief who took over Nestle's struggling Asia, Oceania and Africa region last year. Nestle last chose an outsider as CEO in 1922 and has since preferred to spend years grooming management for the top job.
Bulcke has been under pressure to find new areas of growth as he enters the home stretch of a tenure that started in 2008. The 61-year-old CEO, who's been with Nestle since he started as a management trainee in 1979, has been seeking to reduce the company's reliance on the growth-challenged food industry.
'M&A Junkie'
Schneider's appointment could signal a push for acquisitions to expand Nestle's health-science and skin health units, Targett said, as the executive is "known as a bit of an M&A junkie." Fresenius made more than a dozen acquisitions under Schneider, and it's the leading bidder to acquire Pfizer Inc.'s pumps and devices business, people with knowledge of the matter said earlier this month. Fresenius announced Schneider's departure Monday.
Bulcke will succeed Peter Brabeck-Letmathe as chairman at Nestle's next annual general meeting in April 2017, the company also said. Brabeck-Letmathe won't stand for re-election, having worked at Nestle for half a century.
"Nestle is well prepared to face the increasingly difficult external environment and deliver on both its long-term and short-term performance goals," Brabeck-Letmathe said in the statement.
Nestle shares fell 0.6 percent to 71.70 Swiss francs in Zurich on Monday.
Before it's here, it's on the Bloomberg Terminal.
LEARN MORE