Merkel Rejects Informal Talks With U.K. Before EU Exit Triggered
by , , and
Patience with U.K. can only go so far, Merkel spokesman says

Merkel chief of staff cautions against EU 'centrifugal forces'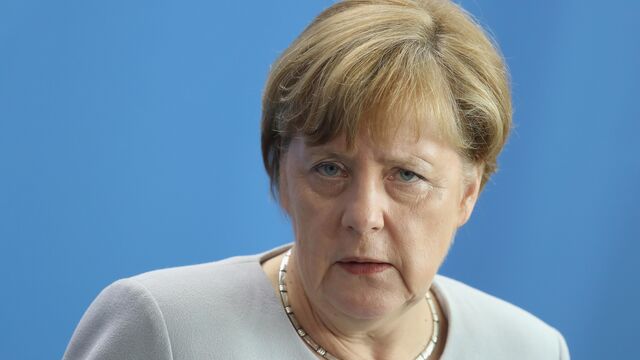 German Chancellor Angela Merkel said that the U.K. has to file official notification of its intention to leave the European Union before talks can start on its future relationship with the bloc.
Merkel, speaking to reporters in Berlin Monday, said that she understands it may take some time for the British government to invoke Article 50 that triggers the countdown to an EU exit, but it can't be allowed to drag on.

"We can't afford an extended waiting game because that would be bad for the economy of both sides of the EU -- the 27 members and Britain," Merkel said. "But I have a certain level of understanding if Britain takes some time to analyze things first."
Merkel's spokesman, Steffen Seibert, told reporters earlier that Germany is willing to give the U.K. a "foreseeable" amount of time to sort out its position. Some European officials have suggested that the end of the year may be an acceptable time limit.
That position contrasts with pro-Brexit leaders in the U.K., who say there is no rush to pull the trigger on an exit, and suggest they can negotiate the terms of a deal in the interim.
QuickTake Why Britain Quit the EU
Merkel said she can't dictate that the U.K. makes a quick notification of its intention to quit, but slapped down the option of talks beforehand.
 
"There can't be any informal negotiations before there's a formal declaration of intention to leave the European Union," she said.
With EU leaders due to meet in Brussels on Tuesday amid French pressure for a quick break with Britain, Merkel faces a balancing act that combines continued economic ties with the U.K. and the need to deal with the "Leave" vote that she lobbied against. Merkel, French President Francois Hollande and Italian Prime Minister Matteo Renzi are meeting in Berlin on Monday evening to try to chart a common way forward.
The chancellor spoke as her government urged fellow EU leaders to avoid encouraging "centrifugal forces" after the U.K.'s vote last week to leave the bloc.
Before it's here, it's on the Bloomberg Terminal.
LEARN MORE