Markets in Revolt Demand Action From Johnson's Brexiteer Crew
by
Pound, bank shares rocked for second day in leadership void

History shows pressure can force leaders into ad-hoc decisions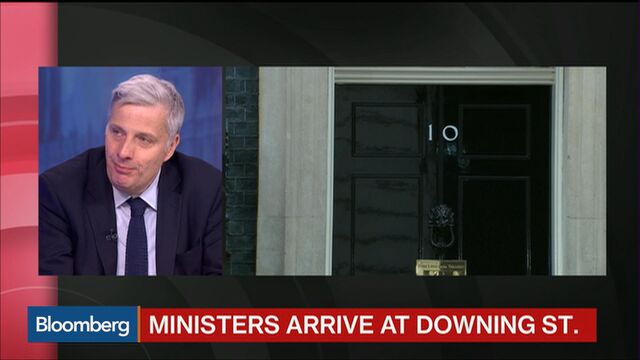 If investors were disgruntled by Britain's vote to quit the European Union, the ensuing leadership vacuum is only adding to their malaise.
Financial-market tumult is ramping up pressure on U.K. lawmakers to say when and how they'll leave the world's biggest trading bloc -- and who it is that will lead the negotiations. While the pound rose 0.9 percent as of 11:43 a.m. London time Tuesday, the gains pale in comparison to losses of 3.3 percent Monday and a record 8.1 percent Friday. Shares in banks and homebuilders have also been suffering and credit markets weakening.

Britain's credibility with money managers, won through the Conservative Party's austerity measures and reforms, is rapidly dissipating. And that's not being helped by comments from Boris Johnson, the leading "Leave" campaigner, that the downside of a Brexit has been "wildly overdone." The risk is that -- just as in the financial turmoil of 2008 or the ensuing euro-area debt crisis -- market volatility becomes so intense officials are rushed into action.
"Politicians underestimate the importance of a plan," said Guillermo Hernandez Sampere, the head of trading at MPPM EK in Eppstein, Germany. His firm manages about 250 million euros ($277 million). "It doesn't matter whether from the Brexiteers or the government. They need to make clear how and as of when new arrangements with the EU will shape up."
Global markets reacted with dismay on Monday to the U.K.'s political paralysis after Prime Minister David Cameron resigned, a revolt erupted in the opposition Labour Party and Scotland's government floated a referendum on its own independence. German Chancellor Angela Merkel meanwhile made it clear the U.K. has to file official notification of its intention to leave before talks can start on its future relationship with the EU. Cameron did assign a team of officials to prepare for withdrawal, and his party accelerated the timetable to elect a new leader by bringing the date forward by almost a month to Sept. 2.
To calm markets, politicians need to "take a united stand and reiterate that regardless of the changes in party leadership, secession from Europe will be carried out in an orderly manner," said Angus Salim Amran, the Kuala Lumpur-based head of financial markets at RHB Investment Bank Bhd. They must also safeguard U.K. interests "through recalibration of trade agreements in light of the U.K.'s new position in the world," he said.
For a real-time newsletter with all the latest on Brexit, click here.
History shows prevarication by lawmakers can force the issue. A selloff in Greek bonds and contagion through Europe's markets informed a series of bailouts and contingency measures during the region's debt crisis. Convulsions in bank stocks and global credit markets pressed U.S. lawmakers to reconsider a rejection of the Troubled Asset Relief Program in 2008. Later, when President Barack Obama's administration was trying to decide how to rescue the financial system and the economy in 2009, U.S. Treasury Secretary Timothy Geithner would declare "plan beats no plan."
While markets haven't yet reached the extremes of those crises, the pound fell an unprecedented 11 percent in two days, touching $1.3121, its weakest level since 1985. Royal Bank of Scotland Group Plc slid 15 percent on Monday after Friday's 18 percent drop, and Barclays Plc had losses of a similar magnitude. Both climbed more than 2.5 percent on Tuesday.
In the aftermath of the vote, a gauge of FTSE 350 Index housing stocks had its worst-ever two-day drop. The cost of insuring corporate debt against default climbed to the highest in about four months in Europe and the riskiest bank bonds fell.

What the Brexiteers are saying:
"We have to ensure we get a free trade deal for Britain, we retake our seat on the World Trade Organisation and we start peeling off the layers of EU legislation from the statute books to make this country fair and competitive so we can have an economy of growth and jobs," U.K. Independence Party Members of the European Parliament Jane Collins and Mike Hookem, in a joint statement.
The government must deliver on its promise to reduce migration and has an obligation to respect the EU vote, Former Secretary of State for Work and Pensions Iain Duncan Smith told the BBC on Sunday
"I cannot stress too much that Britain is part of Europe, and always will be. There will still be intense and intensifying European cooperation and partnership in a huge number of fields," Boris Johnson wrote in an article for the Daily Telegraph. "The only change – and it will not come in any great rush – is that the UK will extricate itself from the EU's extraordinary and opaque system of legislation."


Losses extended to a second day on Monday even after reassurances from central banks that they'll act to stem market volatility, with Bank of England Governor Mark Carney pledging to provide an extra 250 billion pounds for the financial system. The deteriorating markets may hurt confidence and exacerbate Britain's existing economic frailties, including a record current-account deficit.
"It is good that the central bank has come out to say that they will do everything to ensure liquidity in the market, but they have been saying that for a long time so I am not sure that is good enough in a market where the political uncertainly is so high," said Michele Crema, the Herzliya, Israel-based analyst at the chief investment office of UBS Wealth Management. "What we are seeing now is the contagion from the politics to financial markets and what you don't want to see is the contagion from the financial markets to the economy."
One of the focuses for investors is the timing of Britain's decision to trigger Article 50 of the Lisbon Treaty, putting in place a two-year timeline for formal talks. Cameron has said that's a task for his successor. And Johnson, the favorite to take over, indicated Friday that there is no rush to formally start negotiations.
Another is the nature of the U.K.'s relationship with the EU post Brexit -- covering everything from trade and finance to security and immigration.
Johnson sought to convince people they shouldn't be concerned in an interview on Sky News on Monday. "People's pensions are safe," he said. "The pound is stable, the markets are stable, and that's all very good news."
When they first formed a government in 2010, Cameron and Chancellor of the Exchequer George Osborne had sought to overcome investor concern over Britain's finances. "Market credibility is today everything," Osborne said at the time. And as they rolled out spending cuts to trim the budget deficit, the Chancellor stressed that inaction would jeopardize Britain's credit rating.
Now, the Conservatives are facing increasing mistrust among investors -- and the risk that markets lose patience and force the debate. In a move that's emblematic of their fall from favor, S&P Global Ratings removed the U.K.'s AAA grade on Monday, stripping the nation of its last remaining top rating among the three major companies.
"These discussions need to happen fast," said MPPM EK's Sampere. "If companies can't offer the certainty of having future access to the European market, deals will not be possible. There will be downgrades and the pound could fall further, and if we see a lot of capital leaving the U.K., then that will be evidence of investors having very little trust. That's the worst that can happen, because that's when we will have to start talking about things like recession. No one wants to think about how terrible the consequences could be, no one wants to carry responsibility."
Before it's here, it's on the Bloomberg Terminal.
LEARN MORE