M&A Premiums Hit Highest Multiple Since 2007 Despite Slowdown
by
Buyers are 'under pressure to do transactions:' Citi's Tague

Weakening pound may cause uptick in cross-border transactions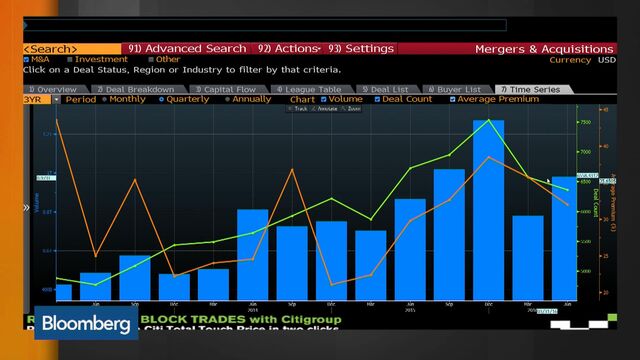 The market for mergers and acquisitions may have slowed from 2015's records, but that doesn't mean those buyers that are willing to do deals can get a bargain.
Deal premiums have reached the highest multiple in at least a decade this year, according to data compiled by Bloomberg. Companies paid a median of 11.07 times their target's earnings before interest, taxes, depreciation and amortization through June 27 to make acquistions, the data show. That's the most since at least 2007.
"Part of it is just the demand, and the pressure that buyers are under to do transactions, remains there," said Peter Tague, co-head of global M&A at Citigroup Inc. In a climate where organic growth is increasingly difficult, there is pressure on companies to acquire others to raise revenue and profit, Tague said, speaking Monday on Bloomberg TV's Deals Report segment. 
"With that backdrop, sellers are demanding more to relinquish control of the company," he added.

Premiums are rising despite an overall drop in deal value: About 18,000 deals with a total value of about $1.5 trillion dollars were announced so far in 2016, according to data compiled by Bloomberg, compared to $1.7 trillion in the same period last year.
 
More deals this year are also being done using the acquiring company's stock -- either in an all-stock deal or using a higher proportion of stock to cash.
"That's partly because valuations for equities have been on the rise," said Tague. "It starts to look like that currency is a lower-cost currency, relative to cash."
High premiums are likely to prevail, particularly in the health-care and technology industries, Tague said, where companies -- and their shareholders -- might have more aggressive growth expectations than in lower growth industrial sectors.
Brexit Opportunities
Despite the instability triggered by British voters' decision last week to leave the European Union, the devaluation of the pound since the referendum could make U.K. targets more attractive to potential acquirers, he said.
Still, "uncertainty is the enemy of the M&A market," Tague said. In the near term, roiling markets make it less likely that deals in the early stages of being discussed will get done, he said.
"Anecdotally, two things we were working on over the weekend, they died because of Brexit," he said.
Before it's here, it's on the Bloomberg Terminal.
LEARN MORE