markets
Gross Says U.S. Recession Odds May Be 30% to 50% Post-Brexit
By
Vote marks 'end of globalization as we know it,' manager says

Yield on 10-Year U.S. Treasuries may drop to 1.25%, he says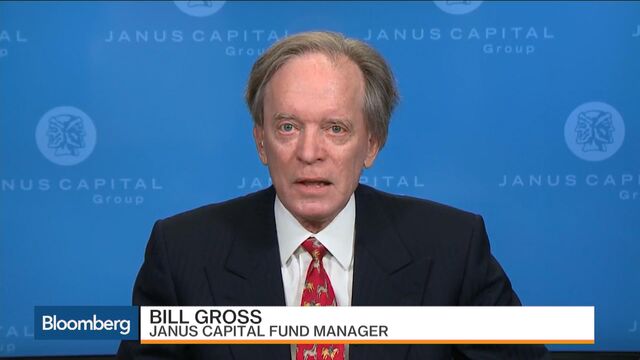 The odds of a U.S. recession may be as high as 50 percent following last week's vote in the U.K. to exit the European Union, according to Bill Gross, manager of the Janus Global Unconstrained Bond Fund.
The yield on 10-year U.S. Treasury bonds may fall to 1.25 percent from about 1.45 percent on Monday, Gross said during an appearance on Fox Business Network. The lower yield would still be attractive to investors compared with negative interest rates in Japan or Germany.
That spread could drive up the value of the dollar and increase the odds of a recession to the 30 percent to 50 percent range, according to Gross. While Britain represents a small part of the global economy, Friday's vote will slow trade, immigration and growth around the world, which have driven economic expansion for years, he said.
"This is the end of globalization as we know it," Gross said.
Gross said Friday on Bloomberg Television that U.S. mortgage-backed securities were a potential haven for investors, offering higher yields than Treasuries with similar credit risks.
His $1.4 billion Janus Global Unconstrained Bond Fund was up 3.1 percent this year through last week, outperforming 78 percent of its Bloomberg peers. It's returned 2.1 percent since Gross took over management in October 2014 after resigning as chief investment officer at Pacific Investment Management Co.
(
Updates with globalization comments starting in third paragraph.
)
Before it's here, it's on the Bloomberg Terminal.
LEARN MORE