business
Germany Warns of EU's 'Centrifugal Forces' After Brexit Vote
By , , and
Patience with U.K. can only go so far, Merkel spokesman says

Merkel chief of staff urges signal to reassure markets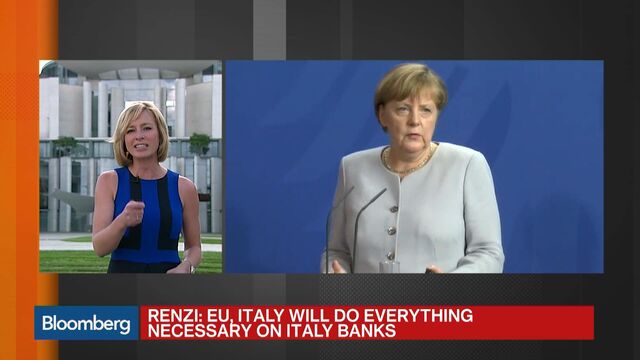 German Chancellor Angela Merkel's government urged European Union leaders to avoid encouraging "centrifugal forces" after the U.K. voted to leave the bloc, while saying that a joint response will take time.
"We should be patient, we should allow the necessary time for this consideration," Peter Altmaier, Merkel's chief of staff, said in a Bloomberg Television interview on Monday. Meantime, "I expect a strong signal by all Europeans that we want to reassure markets."

Britain won't be granted informal talks about a new relationship before its government invokes the EU's separation clause, Steffen Seibert, Merkel's chief spokesman, told reporters in Berlin. While Germany is willing to give the U.K. a "foreseeable" amount of time to sort out its position, there can't be a "waiting game," he said.
With EU leaders due to meet in Brussels on Tuesday amid French pressure for a quick break with Britain, Merkel faces a balancing act that combines continued economic ties with the U.K. and the need to deal with the "Leave" vote that she lobbied against. Merkel, French President Francois Hollande and Italian Prime Minister Matteo Renzi are meeting in Berlin on Monday evening to try to chart a common way forward.
"We want to strengthen the forces of cohesion, not the centrifugal forces," Seibert said.
EU countries disagree about the lessons to be drawn from the Brexit vote, with some advocating further economic integration and others, notably in eastern Europe, wary of ceding more powers to central institutions, Altmeier said in a speech in Berlin earlier Monday.
"I can only warn us here in Germany, or in Brussels, against pretending that we know exactly how things will turn out," Altmeier said.
Before it's here, it's on the Bloomberg Terminal.
LEARN MORE