Merkel, Hollande Prod U.K. on Brexit Citing Market Uncertainty
By , , and
Italy's Renzi joins German, French leaders for Berlin talks

Leaders set September target for set of post-Brexit proposals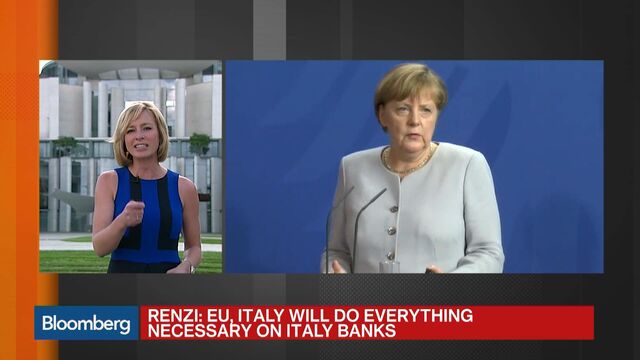 Germany, France and Italy prodded the U.K. government to start the process of leaving the European Union, saying they want to move forward and limit market risks.
"There's nothing worse than uncertainty that generates political and financial behavior that can be irrational," French President Francois Hollande said at a news conference with German Chancellor Angela Merkel and Italian Prime Minister Matteo Renzi in Berlin on Monday. Merkel said "of course we talked about the markets" and "that's why we believe we need to convey a common purpose."
The 27 EU countries besides Britain need to give a "new impulse" with joint proposals on security, defense, growth, competitiveness and reducing youth unemployment, Merkel said. Plans should also address fiscal "harmonization" in the euro area and be ready by September, Hollande said.
The leaders of the euro area's three biggest economies met at Merkel's invitation in an attempt to demonstrate unity before a two-day summit of all EU leaders starting Tuesday in Brussels. Those meetings are the first occasion for the bloc to grapple with the implications of last week's U.K. vote to leave the union.
As S&P Global Ratings cut the U.K.'s top credit grade by two levels, German Finance Minister Wolfgang Schaeuble warned that market pressure on bank stocks is increasing.
"We will continue monitoring the situation in the financial markets with a gut feeling that's not all good," Schaeuble said at a town-hall event in the southern German town of Kuenzelsau on Monday. Britain's decision to leave the EU doesn't look "reversible," he said.
'No Limbo'
Merkel and Hollande both said quick action is needed on the U.K.'s exit process, though Merkel signaled some leeway on the timeline and declined to set a deadline
"We agree that there won't be any informal -- or formal -- talks about Britain's exit before the European Council has received the exit application," she said. "It's surely not a matter of days, but we also have to see to it that there's no limbo. Britain has to take the first step."
In a joint statement, the three leaders said they'll urge the EU summit to "set in motion a process based on a concrete timetable and precise commitments" to address the challenges raised by an EU without Britain.
"On the one hand we are sad because of the British vote, but we also know this is the right time to write a new page," Renzi said.
Before it's here, it's on the Bloomberg Terminal.
LEARN MORE