EU Commission's Juncker Faces Calls to Resign After Brexit Vote
by
Luxembourger not 'right man for job,' Czech minister says

Merkel's spokesman signals support for former premier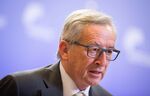 Jean-Claude Juncker faced calls to resign as president of the European Union's executive arm after the U.K. voted to quit the EU.
Some EU governments believe the European Commission bears responsibility for the outcome of last week's referendum in which 52 percent of U.K. voters supported an exit from the 28-nation bloc. Germany's newspaper of record, the Frankfurter Allgemeine Zeitung, published an op-ed on Monday saying Juncker should stand down. Czech Foreign Minister Lubomir Zaoralek said that Juncker should have done more to persuade Britain to remain in the EU.

"At the moment, I don't see the president of the European Commission as the right man for the job," Zaoralek told Czech public television on Sunday. "But it's not just Juncker. The problem of European elites is greater."
German Chancellor Angela Merkel has a trustful working relationship with Juncker, a former Luxembourg prime minister, and is convinced he'll make an "important contribution" to leading the EU and its member countries safely through the difficult period after the June 23 U.K. referendum, Steffen Seibert, Merkel's chief spokesman, told reporters on Monday in Berlin.
'Fair Deal'
Margaritis Schinas, chief spokesman of the Brussels based commission, said Juncker isn't responsible for the British referendum result and doesn't plan to resign. Juncker helped renegotiate the U.K.'s ties to the EU in a February deal with U.K. Prime Minister David Cameron that was meant to help persuade Britons to remain in the bloc after 43 years of membership.
"The commission did not call a referendum," Schinas told reporters on Monday. "The ones who have to draw conclusions from this are the ones who called the referendum. We worked to create the conditions for a fair deal."
Any effort to replace Juncker, who belongs to the same European Christian Democratic party as Merkel, would require potentially sensitive political deliberations in EU national capitals. Juncker is the first head of the commission, which proposes and enforces EU laws, monitors national economies, negotiates trade deals, runs a diplomatic service and administers the bloc's budget, to have won the post after running as a candidate for the Christian Democrats.
Juncker ran for the commission's top job during May 2014 European Parliament balloting in which the Christian Democrats came in first, beating other European parties that fielded their own competitors for the post. That prompted EU leaders to nominate Juncker over the opposition of Cameron and his Hungarian counterpart, marking the first time that such a decision wasn't taken unanimously and that the EU Parliament determined the nominee.
Before it's here, it's on the Bloomberg Terminal.
LEARN MORE