Emerging Equity Slump Deepens on Brexit Fallout as Bonds Rally
by
Currency gauge posts biggest two-day decline since 2011

Bonds advance as Hasenstab forecasts recovery in debt markets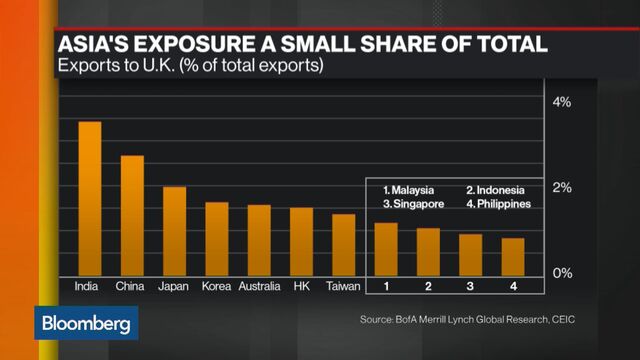 Emerging-market stocks and currencies fell for a second day as Britain's decision to exit the European Union roiled markets amid concern a protracted crisis will sap global economic growth.
Equities in the Czech Republic, South Africa and Poland, which count Britain as a major trading partner, slumped at least 1.6 percent. Banks led declines in Brazil. A gauge of emerging-market exchange rates posted the biggest two-day drop since 2011. Local-currency debt in developing Europe rebounded as Franklin Templeton bond fund manager Michael Hasenstab said risk aversion would be temporary.
As internal revolts within Britain's two major parties sent the pound tumbling to a three-decade low, concern is mounting that the so-called Brexit will undermine global economic growth and spill over into the U.K.'s biggest trading partners. Countries in emerging Europe face the additional burden of losing financial support from the EU once the third-biggest net contributor to the bloc's budget pulls out.
"The markets most vulnerable to Brexit, such as South Africa and those in eastern Europe, are still suffering," said William Jackson, an emerging-market analyst at Capital Economics in London. "Volatility is likely to continue in the next few days and we may see sentiment shift in line with U.K. political developments. Brexit will continue to be the main concern over the next week or so."
For more on the post-Brexit vote infighting in the U.K., click here.
The premium investors demand to hold emerging-market sovereign debt rather than U.S. Treasuries increased 13 basis points to 412, the highest level since June 16, according to JPMorgan Chase & Co. indexes.
Investor inflows into exchange-traded funds that buy emerging market stocks and bonds reached the highest level in almost three months last week even after markets tumbled following the U.K. vote. Net flows into emerging market ETFs that invest across developing nations as well as those that target specific countries rose to $1.75 billion from $58 million in the previous period, according to data compiled by Bloomberg.

The MSCI Emerging Markets Index dropped 1.4 percent to 794.56, pushing the two-day decline to 4.9 percent, the most in 10 month. All 10 industry groups declined in the index, led by consumer and financial stocks.
The PX Index slid 3.6 percent to the lowest close in seven years in Prague. The WIG20 Index fell 2.1 percent in Warsaw. Russia's Micex Index retreated 2.3 percent. Hungarian low-cost carrier Wizz Air Holdings Plc fell 9.7 percent in London to the lowest price since May 2015. Goldman Sachs cut the airline's price estimate by 14 percent, saying it was most exposed to Brexit among regional peers because of its exposure to the U.K. market.
Energy-related stocks across Turkey and Israel advanced after officials signaled the two countries have mended diplomatic ties, potentially paving the way for multi-billion dollar gas contracts. The Borsa Istanbul Electricity Sector Index climbed 1.9 percent. The TA-Oil & Gas Index rose 0.9 percent in Tel Aviv.
Banco Bradesco SA dropped 4 percent in Sao Paulo. Brazilian lenders led the Ibovespa's 1.7 percent decline as Britain's decision to leave the EU stoked concern that a global slowdown would deepen the recession in Latin America's largest economy.
The Shanghai Composite Index gained 1.5 percent after dropping 1.3 percent on Friday.
Currencies
The MSCI Emerging Markets Currency Index weakened 0.7 percent after dropping 1.3 percent on Friday. A measure of historical volatility over the past 100 days surged to the highest level since March 2012.
The zloty depreciated 0.4 percent, the koruna lost 0.4 percent and the Hungarian forint depreciated 0.3 percent against the euro.
Malaysia's ringgit slumped 0.2 percent against the dollar as a decline in crude oil worsened the outlook for its exports. Brent crude slid 2.6 percent to $47.16 a barrel in London on Monday.
The People's Bank of China lowered the reference rate for the yuan by 0.9 percent to 6.6375 per dollar. The fixing -- from which the spot rate can diverge a maximum 2 percent -- is set using the previous day's onshore close, overnight moves in major currencies, as well as market demand and supply.
Bonds
Yields on Turkish 10-year local currency notes fell 20 basis points to 9.53 percent, while those on similar-maturity Polish bonds declined 12 basis points to 3.06 percent.
Hasenstab, who manages the $48 billion U.S.-incorporated Templeton Global Bond Fund, said he was looking to take advantage of some market "dislocations" after the U.K. Brexit vote.
"Once people begin to distill what really matters surrounding the outcome of this event for Europe and the rest of the world, I think that some of those risk assets in emerging markets that sold off will begin to recover," he wrote in a commentary. The Global Bond Fund's main shareholdings are in Mexico, Brazil and South Korea.
Before it's here, it's on the Bloomberg Terminal.
LEARN MORE