Draghi Seen as Cure for Brexit Blues in Corporate-Bond Market
by
Bonds eligible for ECB purchases have gained since U.K. vote

Notes have bucked marketwide sell-off on central-bank optimism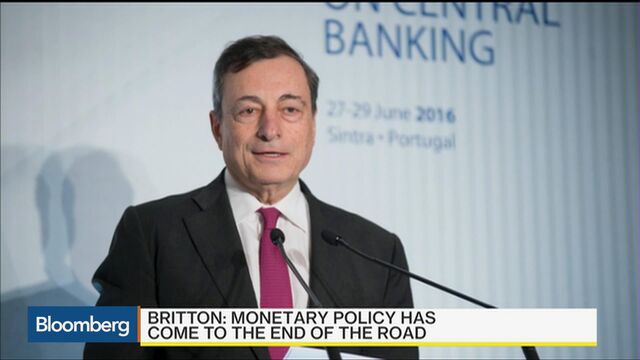 Investors are speculating that Brexit instability will cause the European Central Bank to speed up corporate-bond purchases that began three weeks ago.
Prices on euro-denominated corporate notes eligible for ECB buying have risen since the U.K. voted to leave the European Union last week in contrast to declines for similarly rated financial notes that are excluded from the program. European stocks, junk bonds and currencies have also fallen since the referendum, and the new-issue market has shut, amid uncertainty about the effect Brexit will have on the U.K. and European economies.
"I think the ECB will continue stepping up the size of its corporate bond buying," said Luke Hickmore, a senior investment manager at Aberdeen Asset Management Plc, which oversees about 290 billion pounds ($380 billion) of assets. "If we get that stability from the purchases coming in, that's when we should see issuance come back."

The ECB can only buy bonds issued by non-financial companies in euros, with investment-grade ratings from at least one credit grader. With investors rushing to buy bonds eligible for the ECB program, the spread between yields on euro investment-grade corporate notes and financial bonds has widened to the most since early 2013, according to Bank of America Merrill Lynch index data. 
The average yield on corporate bonds has fallen three basis points since June 23, when the U.K. voted, to 0.84 percent on Monday, according to Bank of America data. That compares with an eight basis-point increase for highly rated financials' bonds, the data show. The yield on junk-rated corporate notes in euros has jumped 40 basis points to 5.05 percent, the highest since April.
"It's hard, in the near term, to make a very bearish case on quality European credit while the ECB is a major buyer," said Stefan Isaacs, a London-based fund manager at M&G Investments, which oversees more than 245 billion pounds. "They could step up their purchases if they need to."
As of June 24, the central bank had bought 4.9 billion euros ($5.4 billion) of corporate bonds since starting purchases on June 8. It entered the market as President Mario Draghi widened efforts to drive up investment and growth in the euro area.
A central-bank official declined to comment on the potential for expanded corporate-bond purchases. The ECB said in a statement on Friday that it's closely monitoring financial markets, is in close contact with other central banks, and stands ready to provide additional liquidity, if needed, in euros and other currencies.
Price Distortions
Potential corporate-bond risks include price distortions on notes from periphery nations amid growing political instability in Europe, M&G's Isaacs said. Greater ECB bond-buying could also make the eventual end of purchases even more painful by causing a collapse in prices, said Jeroen van den Broek, ING Groep NV's Amsterdam-based head of debt strategy and research.
"If the ECB now can pick up more paper than initially thought, against an economic backdrop that's a little worse, we will have a problem when it ends the program," he said.
Bonds sold by Engie SA, Siemens AG, and Volkswagen AG, among others, have gained since the Brexit results. Notes from all three issuers were included in the first wave of ECB corporate-bond buying, according to people familiar with the matter, who asked not to be identified because they aren't authorized to speak publicly.
VW, Engie
Engie's 500 million euros of notes maturing in March 2035 have gained three cents on the euro since the day of the Brexit referendum to 105 cents, according to data compiled by Bloomberg. Volkswagen's 250 million euros of 3 percent bonds due July 2039 have climbed four cents to 107 cents. The bonds' gain on Friday ended five days of losses.
"If the contagion from the U.K.'s Brexit vote becomes more severe and persistent then the ECB may react to that," said David Riley, who helps oversee $58 billion of assets as head of credit strategy at BlueBay Asset Management LLP in London. "It's got some flexibility around the volume of its asset purchases and they've only just started."
Before it's here, it's on the Bloomberg Terminal.
LEARN MORE