Draghi Says Sadness Best Describes Sentiment on U.K.'s Brexit
by
ECB president comments at opening of forum in Sintra, Portugal

Draghi will join EU leaders for meeting in Brussels on Tuesday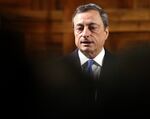 European Central Bank President Mario Draghi set a melancholic tone over the U.K.'s decision to leave the European Union.
"I try to find the word which describes our feelings," he said at the opening of the ECB's annual forum on Monday in Sintra, Portugal. "Probably the best word would be sadness."
While Draghi may be despondent over the so-called Brexit, he and other policy makers are scrambling to map the way ahead amid tumbling markets and rising political uncertainty. Central bankers in the world's biggest economies have joined to pledge liquidity support to maintain financial stability, and the ECB chief will join a meeting of EU leaders in Brussels on Tuesday.
Draghi declined to comment in detail on the vote, saying in his brief remarks "let's set aside the questions that we have for our British friends." He is due to speak again on Tuesday morning in Sintra.
The ECB Forum, a European equivalent of the U.S. Federal Reserve's Jackson Hole symposium, runs until Wednesday -- though a final panel with Draghi, Bank of England Governor Mark Carney and U.S. Federal Reserve Chair Janet Yellen has been canceled.
Policy Concerns
Former Fed Vice Chairman Alan Blinder also spoke on Monday evening, and also decided not to make any in-depth comments on Brexit. Other participants will include Draghi's predecessor Jean-Claude Trichet and former BOE policy maker Charles Goodhart, as well as members of the ECB's Governing Council.
Brexit's threat to the European economy is an unwelcome blow for ECB policy makers already struggling to revive euro-area inflation and strengthen the currency bloc's fragile recovery. Investors increased bets that the Frankfurt-based central bank will have to cut interest rates again in July. Officials may have to consider extending their 1.7 trillion-euro ($1.9 trillion) bond-buying program.
Before it's here, it's on the Bloomberg Terminal.
LEARN MORE