business
Credit Risk Climbs on Brexit for Second Day as Market Shuts Down
By
Cost of insuring corporate debt climbs to four-month high

No new issuance on Monday amid market uncertainty on way ahead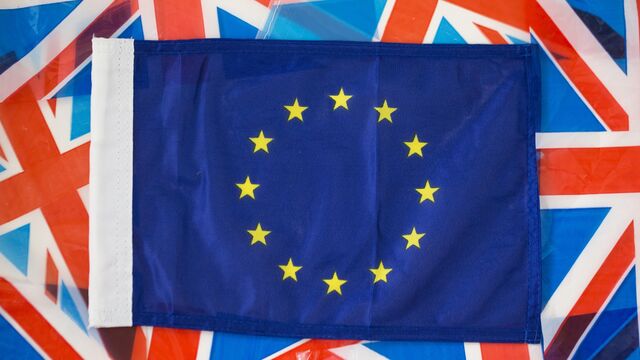 Corporate-credit risk soared for a second day as investors grappled with uncertainty following the U.K.'s vote to leave the European Union.
The cost of insuring corporate debt against default climbed to the highest in about four months in Europe, amid heavy trading volumes, and the riskiest bank bonds fell. In the U.S., indexes of credit-default swaps extended Friday's gains to reach the highest since March.
No company offered bonds in Europe on Monday, as financial markets were rattled by the Brexit vote, the subsequent resignation of Prime Minister David Cameron and a lack of clarity about how and when the U.K. will leave the EU. There may be no bond sales of any type this week in Europe, according to a third of market participants surveyed by Bloomberg.
"There is still a lot of uncertainty over what's going to happen," said Juan Esteban Valencia, a credit strategist at Societe Generale SA in Paris. "It's not quite panic but people are concerned. We need to see how the situation shakes out."
The Markit iTraxx Crossover Index, which tracks credit-default swaps on mostly junk-rated companies, jumped 22 basis points to 411 basis points, the highest since Feb. 26, according to data compiled by Bloomberg. Gauges of swaps tied to investment-grade corporate debt and subordinated financial bonds also climbed to the highest since February.
Bank AT1s
Lloyds Banking Group Plc's 1.5 billion pounds ($2 billion) of 7.625 percent Additional tier 1 bonds, the first debt securities to take losses if a bank runs into trouble, fell 3 cents to 90 cents. Similar notes sold by Barclays Plc, Bank of Ireland and other European lenders also declined.
The risk premium on the Markit CDX North America Investment Grade Index, a credit-default swaps benchmark tied to investment-grade companies, jumped as much as two basis points to 89 basis points. It gained about 11 basis points on Friday, the biggest jump since October 2014. A similar gauge for high-yield bonds gained 10 basis points to 470 after surging 38 basis points Friday.
Trading Volumes
About $1.7 billion of protection on the high-yield benchmark changed hands on Monday as of 1:40 p.m. in London, already more than an average full day, Bloomberg data show. Traders bought and sold $4.9 billion of swaps on the Markit iTraxx Europe Index of credit-default swaps insuring investment-grade corporate bonds, more than half the average for a full day, the data show.
The average yield investors demand to hold high-yield corporate bonds in euros jumped 32 basis points on Friday to 4.97 percent, the highest since April, according to Bank of America Merrill Lynch index data. Borrowing costs for investment-grade companies rose two basis points to a more than two-week high of 0.98 percent, the data show.
"The market has always reacted to uncertainty through severe risk-off positioning, and the trading we're seeing right now highlights that," Suki Mann, founder of bond-market commentator CreditMarketDaily.com, wrote in a note to clients.
— With assistance by Tom Beardsworth, and Claire Boston
Before it's here, it's on the Bloomberg Terminal.
LEARN MORE