Corbyn Faces Confidence Vote as Brexit Spurs Labour Revolt
by and
U.K. opposition leader's team decimated as dozens walk out

Labour faces 'existential threat,' lawmaker Austin says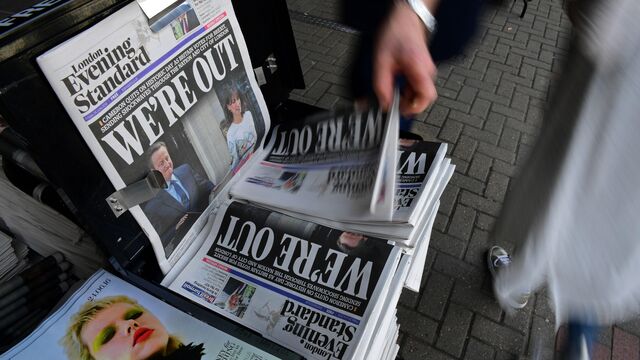 U.K. Labour Party leader Jeremy Corbyn will face a no-confidence ballot on Tuesday as the aftershocks of last week's referendum vote to quit the European Union continue to wreak havoc across the country's political landscape.
At a fractious party meeting late on Monday, members of Parliament discussed a no-confidence motion in Corbyn's leadership, with lawmaker after lawmaker urging him to resign and only a few offering words of support. The criticisms were delivered by more than just the "usual suspects," according to Ian Austin, a member of Parliament for 11 years.
"I've never seen a moment like it," he told reporters after the meeting. "The Labour Party faces an existential threat from the leader we have."
The backlash follows the U.K.'s vote for a so-called Brexit on Thursday, which triggered a mass exodus from Corbyn's team. Many of those who resigned have criticized their leader for running a lackluster campaign to remain in the bloc, which failed to galvanize support among Labour voters. The wider implication is that Corbyn doesn't have the powers of persuasion needed to win a general election that could happen sooner than expected after the seismic shock of the EU vote, which has already forced Prime Minister David Cameron to resign.
Writing on the Wall
"The writing on the wall is 8 meters high and if he can't see it, he needs to go to Specsavers," Chris Bryant, who resigned from Corbyn's team on Sunday, told reporters, referring to a chain of opticians. "This is a battle for the soul of the Labour Party."
Corbyn refused to quit and after leaving the meeting, headed straight to the square outside the Houses of Parliament to address hundreds of supporters who had gathered there for a grassroots rally entitled "Keep Corbyn, Build our Movement."
"We don't need the blame culture, we need the unite culture of working together," Corbyn said to loud cheers from the crowd, who moments earlier had been chanting his name.
Labour's 229 members of Parliament will have until 4 p.m. on Tuesday to vote on the no-confidence motion, with the results due to be announced soon after. The vote is only advisory and won't immediately unseat Corbyn, who was elected last year with landslide support among party members outside the legislature.
Grassroots Support
A Labour leadership election can only be triggered if Corbyn resigns or if 20 percent of the party's lawmakers put their names to a letter backing a rival. About 40 members of the leader's frontline team have quit since the referendum, suggesting that the anti-Corbyn camp has easily enough support in parliament to reach that figure.
But if Corbyn, who's defied all calls to step down, is one of the candidates in any new leadership election then the party's wider members will have the final word. Last year almost 60 percent of them backed Corbyn, a 200-to-1 outsider for the leadership and a serial rebel who had been at the left-wing fringes of the party for more than three decades. The leader's office said he will stand if a contest is triggered.
"I think it's disgusting," Diana Blatton, 74, a Corbyn supporter and retired lecturer who lives in London, said in an interview at the rally. "The traitors have been lurking around ever since he was elected and they've just waited for an opportunity and feel this is an opportunity they can seize. They're totally ignoring what the vast membership of the Labour Party want."
'Bad Day'
The spate of resignations from Corbyn's team began in the early hours of Sunday when the opposition leader sacked his foreign affairs spokesman, Hilary Benn, prompting more than 40 resignations in two days, many of them from the core Labour team known as the Shadow Cabinet. By late Monday, Corbyn had filled some of the gaps, but about 10 positions remained vacant.
Corbyn's troubles have provided some relief for Prime Minister David Cameron, who announced his own resignation on Friday after the failure of his Remain campaign. His successor as Tory party chief and prime minister is due to be chosen by early September.
After welcoming to Parliament a new Labour lawmaker, Rosena Allin-Khan, on Monday, the premier advised her to "keep her mobile phone on."
"She might be in the Shadow Cabinet by the end of the day," Cameron said. "And I thought I was having a bad day."
Before it's here, it's on the Bloomberg Terminal.
LEARN MORE