Chinese Investors Join Gold Rush for Haven After Brexit Turmoil
Bloomberg News
Turnover in China's top gold ETF surges to record after Brexit

Bullion back in spotlight amid curbs on speculative trading
Chinese investors are rushing to gold as a haven after the U.K.'s vote to quit the European Union.
Turnover in Huaan Yifu Gold ETF, China's top exchange-traded fund backed by bullion, jumped to a record 1.27 billion yuan ($191 million) Friday after Britain's vote, said David Xu, managing director for indexing and quantitative investments division at the Huaan Asset Management Co., the manager of the fund. Outstanding shares of Huaan also reached a record 1.6 billion on June 20, jumping five-fold from the start of the year, he said.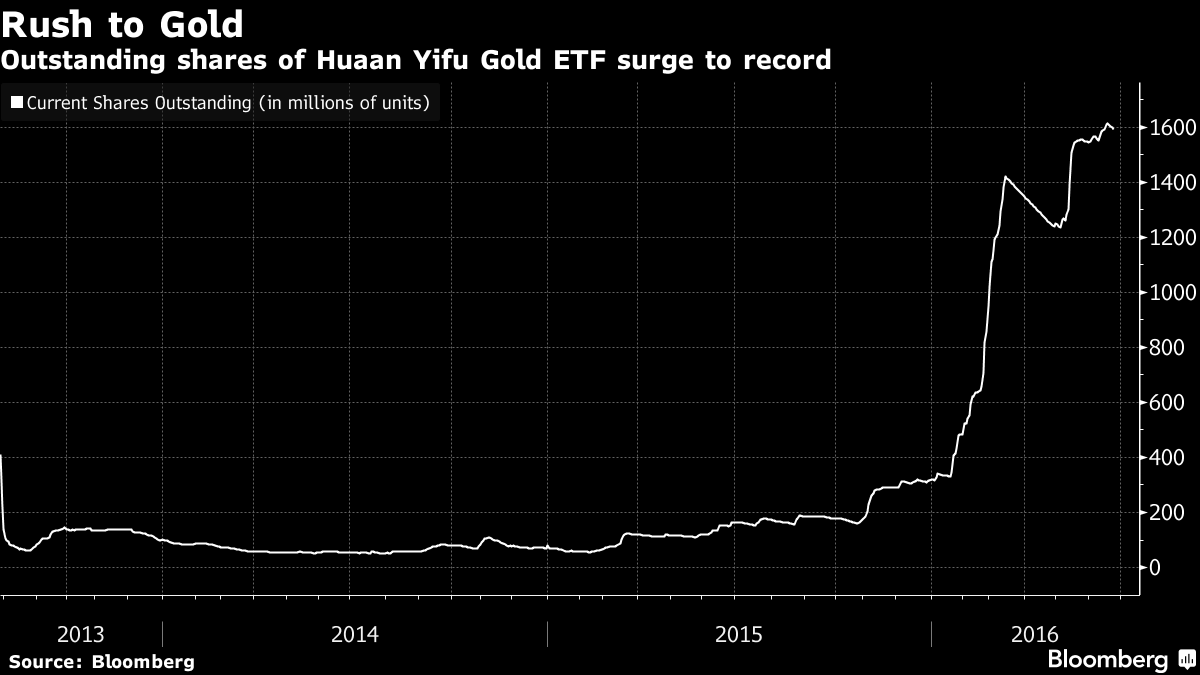 "We saw a record trading of our fund immediately after the Brexit vote as it fueled bets that the global and local economies may suffer," Xu said by phone from Shanghai Monday. Turnover rose as investors expect the U.S. may hold off raising interest rates and Japan, the EU and China may maintain accommodative monetary policy for longer, he added.
China, the biggest gold buyer, is joining a rush for the precious metal after the Brexit referendum disrupted global markets, boosting demand for haven assets. Holdings in bullion ETFs globally surged to the highest level since October 2013, according to data compiled by Bloomberg. Prices gained 25 percent this year.
The Brexit vote adds to the metal's appeal to Chinese investors searching for an alternative investment as economic growth is slowing and authorities try to cool speculative trading. Huaan aims to grow the gold ETF to 500 metric tons in three to five years from about 16 tons now, according to Xu.
'Only the Beginning'

"For the past few years we only saw tepid Chinese interests in these gold funds," said Shihua Duan, senior partner at Shanghai Leading Investment Co. "Now there's a surge and a lot of people haven't realized that this surge is only the beginning."
The top four Chinese gold ETFs combined still have only amassed the equivalent of about 28 tons even after investments almost surged by five-fold this year, said Huaan's Xu.
"If you look at China's current share of the world's gold ETFs, it's too small and doesn't suit the country's status as the largest physical gold buyer, " said Liu Xu, a trader at Beijing-based Guoyun Investment Co.
Chinese gold investors thronged jewelry shops in 2013 after prices plunged by the most in three decades, buying up jewelry, bars and coins and boosting gold consumption that year by 32 percent to a record 1,066 tons. Physical gold demand has fluctuated near 1,000 tons a year since then.
"The aggregate amount of gold held by ETFs in China should reach a ballpark of at least 600 tons, if we were to match the share of the physical demand," Shanghai Leading's Duan said. "So, there's a lot of potential."
— With assistance by Feiwen Rong
Before it's here, it's on the Bloomberg Terminal.
LEARN MORE