China May Lift Cap on Foreign Carmaker Stakes in Joint Ventures
Bloomberg News
NDRC Chairman Xu confirms government considering rule change

Backers of lifting cap include chairman of Volvo owner Geely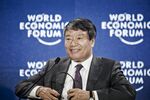 China's government is considering the removal of caps on stakes foreign carmakers can own in joint ventures with local partners, potentially loosening a policy criticized for shielding state-owned companies from competition and building their own brands.
Xu Shaoshi, chairman of the National Development and Reform Commission, said the government is looking into lifting the 50 percent cap in an interview at a World Economic Forum event in Tianjin. China has mandated that foreign players enter joint ventures with domestic partners to operate in the country since 1994.
Backers of allowing foreign carmakers to control their operations in the world's largest auto market include Li Shufu, the billionaire chairman of Volvo Cars parent Zhejiang Geely Holding Group Co., who's said it would encourage competition and be in the interests of consumers. The China Association of Automobile Manufacturers has been among the detractors, warning in 2014 that Chinese brands would be "killed in the cradle" if foreign automakers are allowed to become more independent from their domestic partners.
Chinese auto brands increased their share of domestic passenger-vehicle sales for the first time in five years in 2015, driven by surging demand for cheaper sport utility vehicles. While industrywide deliveries have risen in nine of the last 10 months after a tax cut on purchases of cars with smaller engines in October, inventory levels have remained above what's considered healthy for nine consecutive months, according to China Automobile Dealer Association data.
Foreign carmakers wanting to set up manufacturing plants in China have to do so through joint ventures with domestic companies. Ford Motor Co. has partnered with Changan Group in the southwestern municipality of Chongqing, Hyundai Motor Co. works with BAIC Group in Beijing, and Nissan Motor Co.'s China venture is based in Wuhan in central Hubei province. Shanghai has emerged as the front-runner to become the production base for Tesla Motors Inc. in China, according to a person with knowledge of the matter.
— With assistance by Tian Ying
Before it's here, it's on the Bloomberg Terminal.
LEARN MORE