RBA Chief Risks Being Dragged Back Into Rate-Cut Fray by Brexit
By
Odds of August interest-rate reduction reached more than 60%

Nomura reduces Australia 2016 GDP forecast to 2.7% from 2.9%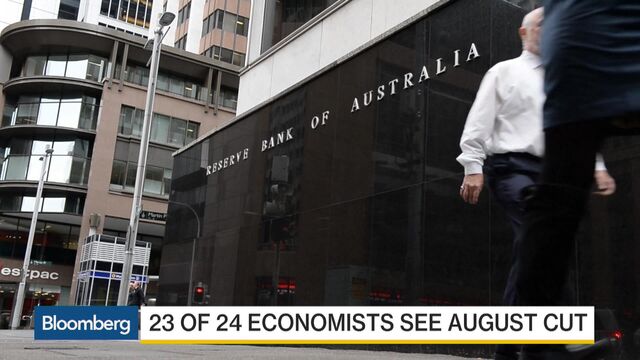 If Glenn Stevens thought he'd delivered his last interest-rate cut in May, the shock of the U.K.'s decision to exit the European Union last week has traders betting he will change that view.
While the swaps market had previously been pricing in less than one-in-two chance that the Reserve Bank of Australia would ease again before the governor steps down on Sept. 17, the market on Friday in Sydney showed a more than 60 percent probability that he would lower the cash rate in August from an already record low 1.75 percent.
Global markets were thrown into turmoil Friday as the results of Britain's EU referendum sent stocks and high-yielding currencies reeling while investors snapped up government bonds. The yield on three-year Australian debt slumped to an unprecedented 1.5 percent as bets mounted the RBA would look to shield a local economy already struggling with a decline in capital spending and disinflationary pressures.
"The RBA has, in the past, often responded to global shocks with monetary easing at the next scheduled meeting," said Adam Boyton, chief Australia economist at Deutsche Bank AG. "Whether that is the case this time around will depend on how markets respond over coming weeks and the nature of any likely flow-on to the real economy."

Swaps traders on Monday were pricing in a 33 percent chance of a cut as soon as next month, with the odds climbing to 55 percent for August and 60 percent for September. That compares with respective probabilities of 20 percent, 38 percent and 45 percent on Thursday. The chances of a U.S. rate increase by December dropped to 15 percent, from 50 percent before the Brexit vote.
The Australian dollar slid 0.6 percent to 74.24 U.S. cents at 7:33 a.m. in Sydney on Monday, extending the 1.9 percent decline Friday as part of the market rout after Britain voted to exit the European Union.
Stevens last opted to cut the RBA's benchmark in May after an official report showed a quarter-on-quarter decline in consumer prices, while core measures of inflation slowed to the weakest pace on record. The central bank opted not to budge in June and instead underscored some of the more positive signs for the local economy after data showed that gross domestic product expanded by 1.1 percent in the first three months of 2016, the fastest pace in four years.
Nomura Holdings Inc. reduced its forecast for Australian 2016 GDP growth to 2.7 percent from 2.9 percent following the vote for a British exit, or Brexit. Andrew Ticehurst, a Sydney-based interest-rate strategist for the bank, cited the impact of wider credit spreads, weaker equity markets and softer sentiment on the economy and said he expects the RBA to ease policy in August and November.
"Our call for two rate cuts by the RBA in the second half was beginning to look shaky after the stronger-than-expected GDP data and the lack of easing bias in the central bank's language," he said. "After Brexit, the call is increasingly looking good again."