Rajan Leaves Unprecedented Bank Reforms for Successor to Finish
by
Central-bank governor had championed fight against bad loans

Rajan to step down in September after three years in role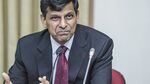 The Indian central-bank governor who takes over from Raghuram Rajan in September will inherit unprecedented banking reforms, which include a drive to get lenders to clean up their bad debts and efforts to bring financial services to millions of new customers.
Rajan's most significant contribution was in pressuring lenders to recognize and make provisions for soured credit, though his successor still has "much work" to do such as getting banks to pass on interest-rate cuts and regulating financial technology, said Nirmal Bang Institutional Equities analyst Hatim Broachwala.
Rajan made two speeches last week defending his policies, as he urged his successor to continue his campaigns against bad loans and inflation. Below is a list of his key banking reforms and an analysis of what's needed to advance them:
Bad-Loan Clean Up
Rajan, who has continually warned about hidden bad debt on Indian banks' books, had given lenders until March 31 next year to clean up stressed assets that have surged since 2010 and amounted to about $120 billion in February. The project was a step toward eventually reviving credit growth and bolstering India's $2 trillion economy.
WHAT RAJAN DID: Started a six-month audit of banks' balance sheets on Oct. 1, which forced lenders to improve disclosures of soured credit and made them to set aside more cash to cover write-offs; did away with almost all exemptions allowing banks to classify stressed assets as standard loans; introduced measures allowing lenders to convert debt owed by companies into equity under the so-called strategic debt restructuring scheme.



WHAT NEEDS TO BE DONE: Either see the disposal of bad loans through under the framework Rajan established, or relax some of the measures to give banks more immediate scope to lend. In a June 22 speech, Rajan called for the clean-up to continue, saying that banks have now stopped lending indiscriminately to reduce their stressed assets.





WHAT ANALYSTS SAY: "The bank balance sheet clean-up is an unprecedented and irreversible call that the RBI has taken," Vibha Batra, the New Delhi-based group head for financial-sector ratings at ICRA Ltd., Moody's Investors Service's local unit. "They have a strong second-rung leadership in place, which can see through the March 31 deadline."









Increased Competition in the Banking System


In a bid to give more Indians access to financial services, Rajan took steps to introduce more institutions into the banking industry. Analysts say that will push traditional lenders to become more efficient as they will have to fend off competition from new entrants for low-cost deposit streams and some fee-earning businesses.
WHAT RAJAN DID: Issued permits for 10 small-finance banks focused on individual borrowers, farmers and small business owners, and 11 so-called payment banks that are essentially digital wallets like Paypal but also offer interest on deposits; granted banking licenses to two lenders in 2014 and proposed issuing new permits more frequently -- previous approvals were granted in intervals of more than a decade.



WHAT NEEDS TO BE DONE: Oversee roll-out of small-finance and payment banks, most of which will be in operation by early 2017; finalize rules put forward by the RBI to increase the frequency of banking permits.





WHAT ANALYSTS SAY: "The out-going governor brought in new players into the banking system to take financial services to the unbanked millions in the country," said Rethish Varma, head of research at Bengaluru-based Aditya Trading Solutions Ltd. "His successor will have to continue the momentum on this by overseeing the regulation of new players and also by bringing in more."
Leveraging Technology
Under Rajan, the RBI backed technology-based efforts to extend formal financial services to hundreds of millions of Indians, many of them poor and disadvantaged.
WHAT RAJAN DID: The RBI backed the Unified Payment Interface, a network created by retail banks and linked to the nation's biometrics-enabled national identification system, which allows money transfers between mobile phones; set up the Bharat Bill Payment System, a centralized platform expected to be operational later this year that allows users to pay for services such as mobile, electricity and water online or through a network of outlets.


WHAT NEEDS TO BE DONE: Rajan's successor will need to install a whole regulatory framework for a nascent financial technology industry, including for areas such as peer-to-peer lending and blockchain. While the RBI has proposed draft guidelines for P2P lenders, they have yet to be finalized.


WHAT ANALYSTS SAY: "In terms of using technology for improving efficiencies and regulating and nurturing the financial-technology companies, the RBI has only touched the tip of the iceberg," Broachwala said. "The entire regulatory regime on usage of technology like P2P lenders or blockchain-linked initiatives are yet to fall in place."

Transmission of Rate Cuts
The RBI took steps to ease a funding squeeze for lenders to encourage banks to pass on reductions in official interest rates, and also moved to improve the transparency of how charges on borrowings are calculated.
WHAT RAJAN DID: Lowered the rate at which lenders access emergency funds under the RBI's marginal standing facility; cut the daily balance requirement for banks' cash reserve ratio; started open-market bond purchases in December; introduced a lending rate-pricing system based on the marginal cost of funds.


WHAT NEEDS TO BE DONE: The gap still exists -- while the RBI has cut benchmark policy rates by 150 basis points since 2014, most of the country's biggest banks have lowered one-year lending rates by only 85 basis points. The new governor will need to ensure ample funding in the financial system to give lenders more scope to reduce their borrowing costs.


WHAT ANALYSTS SAY: "The rise in stressed assets has been eroding profits and constraining banks' ability to pass on cuts in benchmark rates," said Saswata Guha, a Mumbai-based director at Fitch Ratings Ltd. "Through mechanisms that enable timely resolution of stressed assets and address the liquidity deficit, the RBI can ensure that a smoother transmission mechanism is in place over a period of time."
Before it's here, it's on the Bloomberg Terminal.
LEARN MORE