Pound's Fresh Low Shows Market Meltdown Goes Beyond Mere Panic
by and
Sterling weakens beyond Friday's levels versus dollar, euro

Drop vs dollar only half what we'll see in 2016: Standard Bank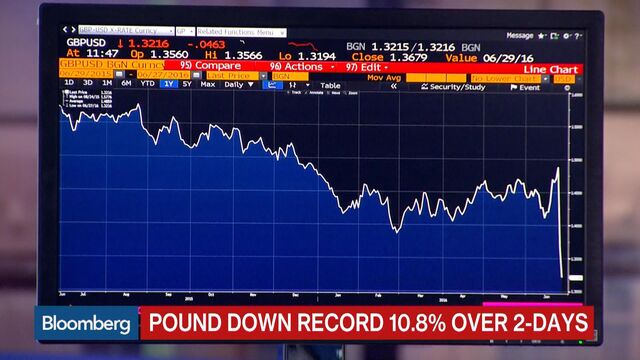 Traders have had three days to digest the Brexit vote, and the pound's slide just keeps getting steeper.
QuickTake Why Britain Voted to Leave the EU
Sterling dropped 3.3 percent to $1.3232 at 6:20 p.m. in London on Monday, after reaching a three-decade low of $1.3121 that surpassed its weakest levels during the panicked selling on Friday that followed the U.K.'s decision to leave the European Union.
The turmoil extended that day's unprecedented 8.1 percent tumble and showed that Chancellor of the Exchequer George Osborne's attempts to calm markets failed to cancel out the effects of the paralysis spreading through U.K. politics.

"Markets were tempted to put on a bit of a relief rally in the immediate aftermath of Osborne, but the reality continues to kick in, and there's this inherent uncertainty which of course is an ongoing issue," said Jeremy Stretch, head of foreign-exchange strategy at Canadian Imperial Bank of Commerce in London. "We are in such uncharted territory."
Contagion spread through U.K., and global, markets. Gains in U.K. government bonds pushed the 10-year gilt yield below 1 percent for the first time on Monday, the FTSE 100 Index of stocks slid 2.6 percent, and Barclays Plc and Royal Bank of Scotland Group Plc fell more than 15 percent. Sterling's drop versus the dollar on Friday was almost double the 4.1 percent slide on Black Wednesday in 1992, when the U.K. was forced out of Europe's exchange-rate mechanism.
Unknown 'Shock'
"So far, in terms of sterling-dollar, we've seen half the decline we're likely to see this year," Steven Barrow, head of Group-of-10 strategy at Standard Bank Group Ltd. in London, said on Sunday. "People are finding it difficult to comprehend what Brexit implies for the future -- we don't know yet what the magnitude of the shock will be."
Investors face months of uncertainty -- the mechanics and terms of the U.K.'s exit are yet to be determined, and the nation's political leadership during the negotiations is unclear after Prime Minister David Cameron announced his resignation. The opposition Labour Party has been thrown into chaos, Scotland is agitating for independence and in Belfast, republicans Sinn Fein called for a referendum on Irish unification.
Fate of Nations
"We've seen so many developments around Brexit over the weekend since the FTSE closed and things are now looking even more concerning," said Angus Nicholson, Melbourne-based analyst at IG Ltd. "It's hard to have any idea about where fair value for the pound should be when you look at the fact that Scotland and Northern Ireland could no longer be part of the U.K. within the next year or two."
Britain's currency sank to a more than two-year low of 83.80 pence per euro, again exceeding its weakest point on Friday, even as Osborne said contingency plans were in place to shore up the domestic economy amid ongoing volatility.
Bank of England Governor Mark Carney sought to restore confidence on Friday by saying that officials will take any steps needed to secure stability. Even that may not be positive for the pound, with investors having boosted bets on an interest-rate cut since the referendum, a move which would likely weaken sterling further. Futures suggest a 53 percent chance of a rate reduction next month, up from 11 percent on Thursday.
Winners, Losers
The chance of a Brexit has dominated pound trading in 2016, and sterling is the most visible casualty as the U.K.'s decision to quit the EU ripples across the world. While a weaker currency may boost domestic exporters, it could increase prices for consumers and complicate the BOE's efforts to meet its inflation remit. And it may also ramp up pressure on politicians to speed up decisions on what steps to take next.
"The low point will be somewhere between $1.20 and $1.25," Kit Juckes, a London-based strategist at Societe Generale SA, said in a Bloomberg Television interview on Sunday. "However much you want to say the U.K. will survive and calm down, the uncertainty is going to have an economic impact, and the uncertainty is magnified at the beginning by the politics."
Britain and the rest of Europe are now feeling their way through the unprecedented situation, with an early sticking point being the timing of the exit negotiations themselves. Cameron said after the referendum result that the U.K. will wait until a new prime minister is in place before triggering the Brexit process by invoking Article 50 of the Lisbon Treaty. European leaders have called for talks to begin immediately.
Cameron addressed Parliament on Monday, rejecting calls for a do-over vote and assigning a team of officials to prepare for withdrawal following the referendum.
For a closer look at the political fallout of Brexit, click here.
While pro-"Leave" politicians sought to minimize the financial turmoil seen on Friday, recent European history shows how politics can start driving markets, only for the relationship to swiftly reverse. During the euro region's debt crisis at the start of this decade, investors played the role of vigilantes by dumping sovereign bonds and pushing governments to act.
"There's a lot of questions that need to be answered right now -- the longer this takes the more the pressure is going to be on the pound," Vasileios Gkionakis, head of currency strategy at UniCredit SpA in London, said in a Bloomberg Television interview on Sunday. He wrote in a note that a drop below $1.20 is possible.
Watch Next: Can Central Banks Save Us From Brexit Woes?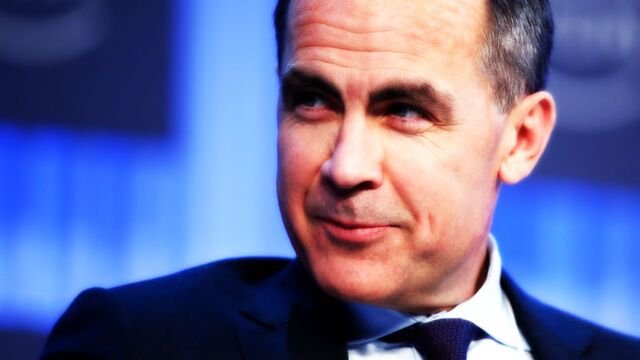 "The reaction we saw in the market on Friday was largely the result of speculative activity," he said "What we haven't really seen is the flow, the reversal of flows coming out of the U.K. When these start unwinding I'm pretty sure that we're going to see some enormous pressure on the pound."
Before it's here, it's on the Bloomberg Terminal.
LEARN MORE