Lagarde Says Brexit Impact Hangs on Policy Makers' Next Move
By
Looking for 'cohesive, concerted' policy response to Brexit

Certainty or uncertainty will effect risk appetite near-term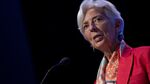 International Monetary Fund Managing Director Christine Lagarde said that the fallout from Britain's vote to leave the European Union hinges on what policy makers do in coming days.
Much of the outcome "is going to depend on certainty or uncertainty, predictability or lack of predictability -- people going in a risk-off mode or considering that the situation is going to settle back," Lagarde said Sunday, speaking at the Aspen Ideas Festival in Colorado in a moderated question-and-answer session. "At this point in time, policy makers, both in the U.K. and in Europe, are holding that level of uncertainty in their hands. And how they come out in the next few days is going to really drive the direction in which risk will go."
The pound plunged, stocks tumbled globally and U.S. Treasuries surged on Friday after results from Britain's referendum showed 52 percent of its voters on Thursday opted to leave the EU. David Cameron said he would resign as U.K. prime minister within three months. The pound fell further in Asian trading Monday morning.
Markets had mis-priced the U.K. vote outcome, triggering the volatility, Lagarde said. "Despite that, there was no panic. There was a violent, brutal, immediate massive move. The pound went down by 10 percent," she noted. "But there was no panic, and the central bankers did the job that they were prepared to do just in case," she said.
The Group of Seven said in a statement Friday that their central banks "have taken steps to ensure adequate liquidity and to support the functioning of markets. We stand ready to use the established liquidity instruments to that end."
Last week, Lagarde said in a statement that the IMF strongly supported commitments by the Bank of England and European Central Bank to supply liquidity to the banking system and curtail financial volatility in the wake of Brexit. The fund was continuing to monitor developments closely and stood ready to support its member countries as needed, she said.
Economic Impact
The IMF warned before the vote that the U.K. could slide into a recession if it quit the EU. Growth could slow sharply this year and the economy may shrink 0.8 percent in 2017, the Washington-based fund said in a report earlier this month.
Sunday, Lagarde said that "if the leave is effectively followed through" with a U.K. withdrawal from the EU, "there is no doubt" that it will have a domestic economic impact, and in time would affect Europe as well.
"Policy makers are going to be in high demand to come in the most cohesive, concerted, and hopefully positive way in response to the situation," she said. "We have very strongly encouraged, and will continue to encourage the parties involved, to actually proceed with this transition in the most efficient, predictable way in order to reduce the level of uncertainty, which will itself determine the level of risk which we are facing."
Lagarde said the referendum was legally of an "advisory value," and though there could be room to alter it, she does not see that happening.
"There is room for revision, but I just don't see it personally," Lagarde said.
The IMF chief also said that EU members will need to "find the right equilibrium between being rigorous and being fair" in dealing with Britain, keeping in mind the potential "contagion effect" for other countries in the EU.
Before it's here, it's on the Bloomberg Terminal.
LEARN MORE