Goldman Is Gloomy on Prospect of Major CapEx Rebound Post-Brexit
By
Expects muted improvement after weak first half of 2016

Brexit aftershock, low potential growth a drag on investment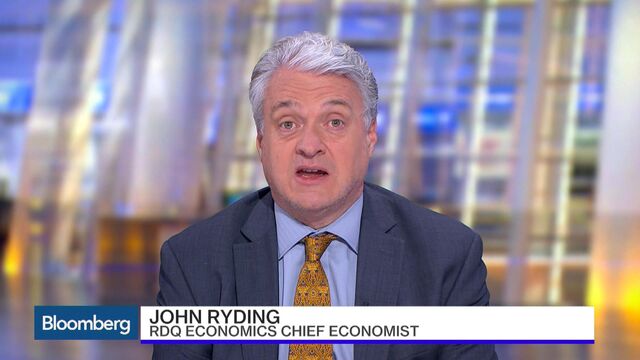 Capital spending in the U.S. was lethargic early this year, and economists at Goldman Sachs see only modest improvement going forward even as the drag from cheap oil fades.
While the rebound in crude oil prices from early-year lows probably means the worst is over after drillers slashed outlays for wells and rigs, business investment faces other challenges. Not only could the financial conditions aftershock from Britain's June 23 vote to leave the European Union prompt companies to reconsider spending plans, low potential U.S. growth may signal capital outlays are set for slower gains than in the past, Goldman economist Daan Struyven wrote in a June 25 research note.
"The upshot is that the soft capital spending in the last years largely reflects underwhelming growth rates of the labor force and measured total factor productivity," Struyven wrote. "The current level of investment is closely in line with our estimate of its fundamental level and we therefore do not see any major imbalances in corporate capex."

Goldman expects a 1.7 percent pace of growth for capital spending in the second half of 2016, historically weak but an improvement nonetheless. In the first five months the year, new orders for non-defense capital goods excluding aircraft were down 3.5 percent compared with the same period a year ago, according to Commerce Department data.
Glum Prospect
A more tepid path for business investment is a glum prospect for the U.S. economy. When companies decide not to spend on productivity-enhancing infrastructure, over time it restrains how quickly output-per-hour, wages and growth can accelerate.
Federal Reserve Chair Janet Yellen last week voiced concern about the investment slowdown during semi-annual testimony before the Senate Banking Committee. She also attributed it to slow economic growth and more gradual workforce expansion.
"In recent months, it has turned negative and is extremely low, even outside of energy, where we have a substantial cutback in drilling activity," Yellen said. "One reason for it is simply that the economy's been growing slowly. Sales growth has been slow and many firms have found they actually don't need to invest very much in order to satisfy the demand growth that they're seeing."
Uncertainty could be another factor holding back business investment, economists at Bank of America Merrill Lynch wrote in a June 24 research note -- and it could be heightened by Brexit.
"Considering the new wave of uncertainty stemming from the U.K.'s decision to exit the European Union, the outlook for capex looks particularly challenging," they wrote.