Cameron to Face Lawmakers as U.K. Drifts Aimlessly to Brexit
by and
Britain has neither EU negotiating position nor negotiators

Labour sets about attempting to throw leader Corbyn overboard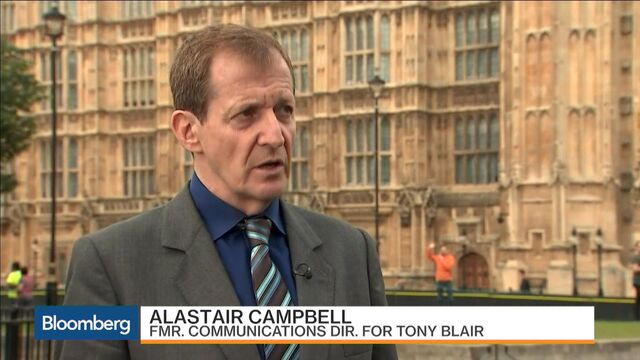 David Cameron will address Parliament Monday after a weekend of political turmoil that left Britain looking rudderless following the shock vote to leave the European Union.
The attempt by opposition Labour Party lawmakers to throw their leader Jeremy Corbyn overboard, coming on the heels of the prime minister's announcement that he will be gone in months, left the sense on Sunday that Britain was facing its greatest crisis in half a century with neither a functioning government nor an opposition.
Ministers who did break cover were unable to say what Britain's future relationship with the EU might look like -- that was a matter for Cameron's replacement, they said. Boris Johnson, one of Brexit's most senior supporters and a favorite for the job, sought to reassure Britons in his Telegraph column, published Sunday night, saying fears of the vote's consequences were "wildly overdone." But while he stressed there was no hurry to start negotiations with the EU, he fell short of putting forward any kind of plan.
'Wildly Overdone'
"This climate of apprehension is understandable, given what people were told during the campaign, but based on a profound misunderstanding about what has really taken place," former London mayor Johnson wrote. "At home and abroad, the negative consequences are being wildly overdone, and the upside is being ignored."
Johnson also gave his backing to Bank of England Governor Mark Carney, much criticized by the Brexit camp for his warnings on the economic consequences of a vote to leave. The move will help calm speculation that bad blood between Brexiteers and the BOE during the campaign could have shortened Carney's tenure.
"Most sensible people can see that Bank of England Governor Mark Carney has done a superb job -- and now that the referendum is over, he will be able to continue his work without being in the political firing line," Johnson wrote.
The pound extended its record one-day selloff in early trading and U.K. stock index futures tumbled more than 3 percent, as investors braced for another rocky day on U.K. financial markets.
Chancellor of the Exchequer George Osborne, who has not made a public appearance since Friday's results, will make a statement Monday morning seeking to "reassure about financial and economic stability" and set out the actions the government proposes to take to do so until Cameron steps down, according to the Treasury.
"I've never known a weekend like it," said Tim Bale, professor of politics at Queen Mary University of London. "A time when the stakes are incredibly high and those people charged with handling them are either absent without leave or tearing lumps out of each other."
International leaders spent the weekend preparing to respond. After initially furious reactions to the vote from European capitals, there were gentler words on Sunday. German Chancellor Angela Merkel's chief of staff urged a time-out in Britain's exit from the European Union, saying in a newspaper interview that U.K. leaders should pause to consider the implications.
"Politicians in London should be given the chance to think through the consequences of an exit," Peter Altmaier, head of the German chancellery, was quoted as saying by RND, a German newspaper group.
Power Vacuum
U.S. Secretary of State John Kerry will travel to Brussels and then London on Monday to discuss the situation with the EU's foreign policy chief Federica Mogherini and U.K. Foreign Secretary Philip Hammond.
Merkel will host French President Francois Hollande and Italian Prime Minister Matteo Renzi in Berlin on Monday. The heads of what will be the EU's three biggest economies once the U.K. is excluded are expected to discuss their response ahead of a meeting of the bloc's 28 leaders in Brussels on Tuesday.
There are differences within the governments on how tough a line to take with Britain, with the political power vacuum in the U.K. also complicating the issue. France in particular may be less conciliatory, with its leaders and policy makers pushing for as little delay as possible.
Labour Resignations
While members of Cameron's Conservative Party went to ground over the weekend to prepare for their different roles in the coming campaign for the party leadership, senior Labour figures announced they had lost patience with Corbyn. 
After he responded by sacking foreign affairs spokesman Hilary Benn on Saturday evening, other members of the shadow cabinet resigned one after another. Corbyn, meanwhile, steadfastly refused to resign, saying in a statement late on Sunday that he regretted the resignations and would "reshape" his team over the coming 24 hours.
"At this absolutely critical time for the country, the Labour Party needs strong and effective leadership," Benn told the BBC's "Andrew Marr Show." "Jeremy is a good and decent man but he's not a leader. And that's a problem."
Corbyn may survive, thanks to his popularity with the party membership, but he has lost any remaining authority he had with Labour lawmakers. They blame his half-hearted endorsement of EU membership for the result, and are troubled by the way that so many Labour heartlands voted to leave the EU, despite the party's urging.
EU Position
They also fear that Cameron's replacement will call a snap election, at which Labour will need a clear position on its attitude to the EU and a leader who looks like a potential prime minister. The first question is an existential one for Labour: Does it accept the referendum result and fight the election on a Brexit ticket, something that is anathema to most of its lawmakers, or does it fight on a promise to water down Brexit, something that many of its traditional voters would clearly despise?
The Tories face a similar problem. Their leadership contest is likely to revolve around two questions: What kind of Brexit are they going to offer, and who is going to offer it? Johnson, though for the last four months the face of a campaign that was anti-immigration, actually supports relatively high levels. Home Secretary Theresa May, who opposed leaving the EU, is also an advocate of reducing immigration. Both are likely to formally announce their candidacy this week.
Only the Liberal Democrats, who were nearly wiped out in the 2015 general election, see a clear path. Leader Tim Farron said the party would pledge to keep the U.K. inside the EU. Although this is an offer the country has just rejected, a party that plainly rejected Brexit could pick up the support of many of the 48 percent who voted against it.
"The total lack of leadership in the wake of the referendum is probably even more worrying than the vote's unexpected outcome," wrote Carsten Nickel, deputy director of research at Teneo Intelligence, in a research note. "U.K. domestic politics should be considered as a source of political risk for the foreseeable future."
---

For full coverage of the referendum, click here
Before it's here, it's on the Bloomberg Terminal.
LEARN MORE