Brexit Fallout to Test Trader Nerves as Asian Markets Open
by and
Investors remain in shock from decision, says Mizuho's Nakano

Markets to stay in febrile state for weeks, NAB's Attrill says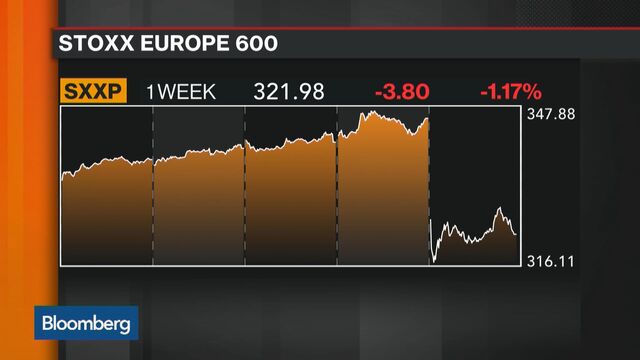 Money managers who suffered through Friday's rout say uncertainty about the details of Britain's exit from the European Union has them girding for more volatility as markets open in Asia.
Currencies started the week nervously, with the pound declining more than 2 percent and the euro sliding along with Australia's dollar and Indonesia's rupiah. S&P 500 Index futures lost 0.6 percent, while contracts on the U.K.'s FTSE 100 Index sank 4.2 percent as of 10:04 a.m. in Hong Kong on Monday. Among Asian equity markets, only Japan, Australia and China posted gains.
National Australia Bank Ltd. expects the Aussie to weaken, while for Takahiro Nakano at Mizuho Trust & Banking Co., the shock factor of a Brexit victory hasn't yet worn off. Pictet Wealth Management's Christophe Donay says equities have further to fall as investors grapple with unanswered questions over the U.K.'s secession. A gauge of global shares plunged 4.8 percent on Friday for its steepest drop since August 2011, while a measure of currency volatility soared the most in almost nine years.
"In the short-term, investor minds will be in shock," said Nakano, a Tokyo-based senior strategist at Mizuho Trust & Banking Co. "The British people have made an important decision that will change the framework of the world. Brexit will be a tipping point for the EU, which was going in the direction of further integration despite the European debt crisis."

Japanese stocks tumbled Friday as the flight to safety drove up the yen, hurting the outlook for exporters in Asia's second-biggest economy. The South Korean won and the Australian dollar were the biggest losers among Asia-Pacific currencies as the U.K. decision raised concern global growth will slow further and sent commodities sliding from close to the highest level since October.
Among assets moving as of 10 a.m. in Hong Kong:
The yen gained 0.6 percent as investors sought the haven of Japan's currency
The 10-year Treasury yield dropped 7 basis points to 1.49 percent, and Japan's 30-year rate declined to an unprecedented 0.11 percent
The euro fell 1.1 percent, while the Czech, Hungarian and Polish currencies all retreated by more than 1 percent
Norway's krone tumbled 3.2 percent and South Africa's rand dropped 1.2 percent
Hong Kong's Hang Seng Index of shares slid 0.7 percent, while the Malay and Indonesian gauges retreated at least 0.7 percent; Japan's Topix rose 1.3 percent

With Prime Minister David Cameron saying he'll step down and with the U.K.'s credit rating in doubt, Brexit-fueled market turmoil may be slow to dissipate. The EU's founding members increased pressure on the U.K. to leave the bloc as soon as possible, while Cameron said he was in no hurry, indicating he will wait as long as three months before making way for a new leader who will be tasked with negotiating the exit. Scotland has accelerated plans to take another run at independence from the U.K..
"Risk assets will come under pressure in the days to come," said Donay, the Geneva-based head of asset allocation and macro research at Pictet Wealth Management, whose parent oversees about $443 billion. "After the shock has passed, risk assets will stabilize while market participants tease out the form that Brexit takes. But this stabilization could prove temporary."
Friday's market turbulence was accompanied by a chorus of central-bank assurances that policy makers stand ready to intervene. Governor Mark Carney said the Bank of England could pump billions of pounds into the financial system, while the European Central Bank said it will give banks all the funding they require to counter market turmoil. The Federal Reserve said it was "carefully monitoring" financial markets.
Japan May React
Japan's government and central bank are considering measures, including unilateral intervention in the currency market, to counter any abrupt gains in the yen, the Nikkei newspaper reported.
Brexit's potential consequences include "money flight from emerging markets as a result of stronger investor conviction to shift into risk off mode," Angus Salim Amran, Kuala Lumpur-based head of financial markets at RHB Investment Bank Bhd., wrote in an e-mail. "Downward pressure on commodity and oil prices -- breach of key $50 oil price resistance now remote, leading to continuing weakness in emerging Asian currencies in particular," the ringgit, rupiah and Australian dollar, he wrote.
The Topix index fell 7.3 percent in Tokyo on Friday, while the pound sank to the lowest in three decades. European equities had their worst day since October 2008. The Japanese stocks gauge advanced Monday as the yen held above 100 per dollar, steadying after the currency's biggest surge since 1998.
"Markets will likely be in a febrile state for weeks to come," said Ray Attrill, Sydney-based global co-head of foreign exchange strategy at National Australia Bank. "I'm not sure that changes even when the political leadership vacuum in the U.K. is filled."
Bargains Possible
To be sure, there may be money to be made after sudden falls. Old Mutual Plc and Citi Private Bank are among those betting Asian markets may recover. Joshua Crabb, Hong Kong-based head of Asian equities at a unit of Old Mutual, said this is a chance to pick up bargains.
And investors that raised bets on 10-year Treasuries to a three-year high as of last Tuesday would have benefited from the Brexit-fueled flight to safety that sent U.S. government debt to its best one-day gain since 2011, based on Bloomberg Bond Indexes.
Over at Mizuho Bank Ltd. in Tokyo, too many unanswered questions remain.
"The only thing that's decided is to leave but we are left with no information on when, how and through what process that will be done," said Daisuke Karakama, Tokyo-based chief market economist at the bank. "Investors will unload risk assets given that we can't expect at this moment an improvement in sentiment towards the U.K. economy and global financial markets."
Before it's here, it's on the Bloomberg Terminal.
LEARN MORE