Williams Tries to Save Takeover as Investors Look to Future
by
Judge ruled Friday Energy Transfer can back out of takeover

Williams shareholders vote to approve merger despite ruling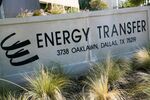 As Williams Cos. emerges from nine months of M&A purgatory and the chances of the pipeline giant remaining a standalone company are higher than ever, investors are asking:
Where to now, Williams?
Energy Transfer Equity LP, the rival who agreed to take Williams over for $32.9 billion in September and then proceeded to back away as oil prices plunged, was cleared by a judge on Friday to withdraw its offer. While Williams is still trying to salvage the merger -- its shareholders voted to approve the takeover Monday and the company filed a notice of appeal in court -- investors are already assuming the deal's dead. They're now looking for an idea of what sort of company 108-year-old Williams wants to be going forward, and some are calling for a return to basics.

"My hope is it'll now have an opportunity to resettle, to reconnect with the investor groups and make sure people understand that you're making a good, solid, long-term investment," Keith E. Bailey, who served as Williams' chief executive officer from 1994 to 2002, said in a phone interview on June 23. "It's steady -- it's steady growth over time."
In some ways, Williams may find itself back to square one after Friday's court ruling, which allows Energy Transfer to kill the merger after it failed to get lawyers to sign off on a tax opinion. Before Energy Transfer founder Kelcy Warren agreed to buy the Tulsa, Oklahoma-based company, Williams was facing pressure to simplify its corporate structure and planned to buy the remaining stake of its Williams Partners LP unit to lower its cost of capital.
Shareholders Vote
Williams declined to comment on the company's future plans, saying in Monday's statement that it is "ready, willing and able" to close the merger with Energy Transfer. In its notice of appeal, Williams didn't ask the Delaware Supreme Court for a quick hearing, meaning that such a step could take months -- if the court agrees to a hear the case at all.
Friday's ruling will be "difficult to overturn" because the court involved is an expert in complex business litigation, Bloomberg Intelligence analyst Brandon Barnes said in a report Monday.
Energy Transfer has meanwhile said in its own statement that it doesn't believe it'll get the necessary tax opinion before June 29, the date on which it's entitled to terminate the merger.
Williams fell 6.2 percent to $20 in New York trading Monday. Energy Transfer fell 1.7 percent to $13.60.
Management Questions
In the aftermath of the Energy Transfer fight, Williams may see a shakeup in its management ranks.
Energy Transfer made several offers before Williams' board agreed to the purchase in September. CEO Alan S. Armstrong didn't vote in favor at the time. Two strong backers were directors Eric Mandelblatt, a managing partner at Soroban Capital Partners, and Keith Meister at hedge fund Corvex Management LP. The two joined the board in 2014 after their firms increased stakes in Williams and proved instrumental in persuading directors to support the merger, videos played during last week's trial show.
Bailey suggested that those at Williams who were most in favor of the deal should resign.
"You need the board and the management team to be on the same page and moving in the same direction," he said. Those who supported the deal, he said, should conclude: "I was in favor of the deal. It's clear it didn't work. The right thing for me to do is leave."
Meister did not respond to an e-mail seeking comment Friday. Mandelblatt didn't respond to an e-mail either.
Dividend Cut
Williams has already telegraphed one move. Earlier this month, it said it may have to cut its 64-cent quarterly dividend -- for the first time in at least a decade -- by a "material" amount. Doing so could free up cash to preserve the payout at its Williams Partners master-limited partnership. That entity rose the most in more than a month on Thursday as investors placed bets that it would fare better under Williams than under Dallas-based Energy Transfer, Brandon Blossman, an analyst at Tudor Pickering Holt & Co., said.
Williams may cut its dividend by 75 percent in the third quarter of 2016, Timm Schneider, an analyst at Evercore ISI, said in a note to clients on Monday. Schneider also gave Williams a "buy" rating and a target price of $24 per share.
In Limbo
The unraveling merger also throws into question whether Williams will resume its roll-up of the master-limited partnership. Skip Aylesworth, who manages $1.5 billion in holdings at Hennessy Funds in Boston, said he thinks Williams should pick up where it started and finish the roll-up, adding that it'd be a similar move to what pipeline giant Kinder Morgan Inc. did.
That may require Williams to slash its dividend to free up cash, which could in turn drive its stock price down by almost half, at least temporarily, Aylesworth said. "The company will resume growing and ultimately be better off than it was before," he said.
Williams' determination to move forward with Monday's shareholder vote and enforce its rights under the merger agreement with Energy Transfer has meanwhile left investors scratching their heads, leaving the future of the company in limbo.
"The decision tree still has many boxes," Schneider said. "The longer this thing goes on, the more boxes magically appear. As you're getting closer to the finish line, it doesn't narrow -- it just gets wider."
Before it's here, it's on the Bloomberg Terminal.
LEARN MORE