Treasuries' Brexit Rally Has Bill Gross Eyeing Record-Low Yields
by
Janus fund manager says U.S. 10-year yield may tumble to 1.25%

JPMorgan, Bank of America push Fed rate-hike calls to December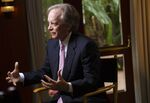 Bill Gross says the Treasury 10-year note's record-low yield level is in danger of being breached after Britain's historic vote to leave the European Union amplified risks to global economic growth.
Gross joins money managers from Deutsche Bank AG's Private Wealth Management unit, Eagle Asset Management and Sage Advisory Partners in saying 10-year note yields may fall to 1.25 percent, below the record 1.38 percent reached in July 2012. The predictions come as confidence dwindles that the U.S. economy is strong enough for the Federal Reserve to raise interest rates this year amid a growing roster of worldwide risks.

"The ultimate next stop in terms of, if the cycle of economic growth cannot be rejuvenated by current interest rates, is probably around 1.25 percent," Gross, manager of the $1.4 billion Janus Global Unconstrained Bond Fund, said in a Bloomberg Television interview Friday. "We're not far from that."
Gross's call goes against consensus forecasts that have been consistently wrong about the direction of yields in 2016. Prognosticators in the $13.4 trillion Treasury market for years have been early in calling for a resurgent U.S. economy to fuel inflation and higher yields. Instead, yields have dropped amid worldwide demand for haven assets including sovereign debt.
Brexit Shock
The yield on the benchmark 10-year note tumbled 19 basis points on Friday, or 0.19 percentage point, to 1.56 percent as of 5 p.m. in New York, according to Bloomberg Bond Trader data, the lowest closing level since September 2012. The price of the 1.625 percent security due May 2026 rose 1 22/32, or $16.88 per $1,000 face amount, to 100 19/32. The yield touched a record low 1.379 percent in July 2012.
Treasuries' 4.7 percent return this year follows a 0.9 percent return in 2015, according to Bloomberg U.S. Treasury Bond Index data. The Standard & Poor's index has returned 0.8 percent this year.
The yield on the German 10-year bund touched a record-low minus 0.17 percent after the Brexit vote sparked a worldwide bid for haven assets. Japan's 10-year yield was at minus 0.185 percent.
"When you have German rates negative and Japan negative, U.S. rates can go significantly lower," said Mark MacQueen, co-founder of Sage Advisory Services Ltd., which oversees $12 billion in Austin, Texas. "We're in the midst of a major experiment. Brexit is contagious."
Revising Forecasts
A dimming global economic outlook helps explain why analysts and economists have lowered their year-end Treasury 10-year yield forecasts. Consensus year-end estimates stood at 2.06 percent before the Brexit vote, down from 2.82 percent in January.
Britain's vote to leave the EU also led forecasters including JPMorgan Chase & Co. and Bank of America Corp. to push out calls for when the Fed will next raise rates, to December from September. 
The market-implied probability of a rate boost by year-end was 14 percent, futures data compiled by Bloomberg show, down from a 50 percent chance assigned on Thursday before the U.K. vote. Traders see a 12 percent chance the Fed lowers rates next month.
"We've got a long period of uncertainty in front of us, and until that cloud clears and data gets better in the U.S., it's inconceivable they can raise rates," said Daniel Dektar, chief investment officer in Durham, North Carolina, at Amundi Smith Breeden Asset Management. "It's easy to imagine 1 percent on 10-year yields" over the next 12 months, he said.
Growth Slowdown
JPMorgan strategists on Friday lowered their outlook for U.S. economic growth in the second half of the year to 2 percent from 2.25 percent.
Earlier this month, Shyam Rajan, head of U.S. rates strategy in New York at Bank of America, and his group projected the 10-year yield could fall below 1.3 percent to 1.4 percent in the event of a "Leave" vote. Now, they say it may fall even lower.
Gary Pollack, who manages $12 billion as head of fixed-income trading at Deutsche Bank AG's Private Wealth Management unit, and James Camp, director of fixed-income at Eagle Asset Management, with about $30 billion in St. Petersburg, Florida, agree that 1.25 percent may be in the cards.
"It's a reflection of the global slowdown in the economy, as well as investors looking for safety and security," Pollack said. "Yields will continue to grind lower."
Before it's here, it's on the Bloomberg Terminal.
LEARN MORE