Corbyn Says He'd Run Again for U.K. Labour Leader If Challenged
by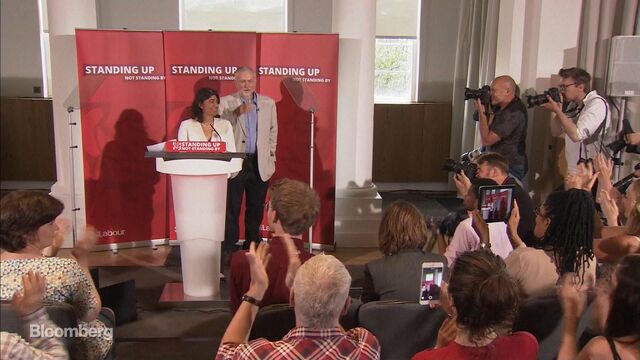 Jeremy Corbyn said he'd run again for the leadership of the U.K.'s main opposition Labour Party if he faces a challenge from another lawmaker.
"Yes, I'm here," Corbyn said in response to a reporter's question after a speech in London on Saturday when he was asked if he'd contest another leadership election. He cited a petition backing him signed by more than 140,000 people.

Senior Labour lawmakers have blamed him for failing to galvanize enough party support to thwart Britain's vote to leave the European Union in Thursday's referendum. A motion of no confidence in his leadership was submitted on Friday by two members of the House of Commons, Ann Coffey and Margaret Hodge, for consideration at the parliamentary party's weekly meeting on Monday evening.
"Yes, there are some people in the Labour Party and the Parliamentary Labour Party who probably want somebody else," Corbyn told reporters. "What I've been amazed by is that, in the last 24 hours, 140,000 people have said they do not want the party spending the next two months debating the leadership of the party. They want the party to get on the front foot, get out there, explain what the Tories have done to the heartlands of this country.'
Before it's here, it's on the Bloomberg Terminal.
LEARN MORE