Traders With $59 Billion in Put Options May Profit on Pound
By and
Pound falls to weakest level since 1985 after vote to quit EU

Cost of protection has surged to record highs prior to vote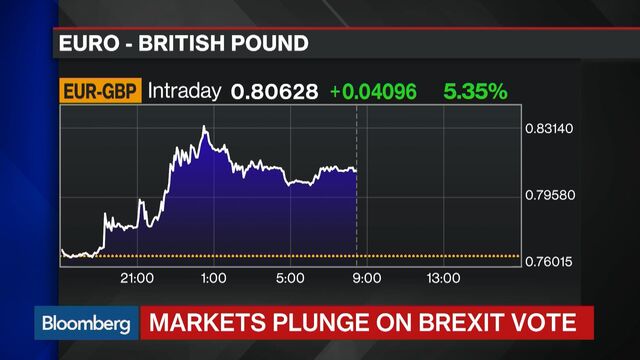 Pound traders who wagered on the U.K. currency falling toward its worst level in decades may be among the first to profit from Britain's decision to leave the European Union.
About 43 billion pounds ($59 billion) notional of options to sell the pound against the dollar at $1.40 or below was registered with the Depository Trust & Clearing Corp. since Feb. 20, when the date of the referendum was officially announced. Those trades, which expire beginning June 24, would make money based on the current exchange rate after the pound tumbled following the vote to quit the 28-nation bloc.
"The hedge has clearly worked," said Petr Krpata, a currency strategist at ING Groep NV in London. "With the option, these investors guarantee themselves against a worst case level of pound-dollar." Krpata said he expects the currency pair "to be choppy and travel in the $1.30-$1.40 area in coming weeks."
The pound slid to as low as $1.3229 Friday during the London day, the weakest level since 1985. It was 8.5 percent lower as of 4:47 p.m. in London, the most on record and exceeding the 4.1 percent drop on Black Wednesday in 1992, when the currency was forced out of Europe's exchange-rate mechanism.
Costs of protection had surged to record highs as opinion polls suggested the result was too close to call.
Put Premiums
The premium for one-month options to sell the pound versus the dollar compared with contracts to buy widened to an all-time high of 9 percentage points on June 22, up from less than one percentage point in late May, risk-reversals data compiled by Bloomberg show. It narrowed to about half of that on Friday after the U.K. decision became clear.
"We did see a lot of interest in buying downside protection ahead of the vote, and the result confirmed the worst of the fears" said Valentin Marinov, head of Group-of-10 foreign-exchange strategy at Credit Agricole SA's corporate and investment-banking unit in London.
Marinov said he expected investors "to keep their hedges for now," as sterling is likely to remain under pressure on the back of "lingering political uncertainty," as well as growth underperformance and Bank of England's monetary easing policy, he said.
Before it's here, it's on the Bloomberg Terminal.
LEARN MORE