These Five Charts Show How Brexit Rocked Europe's Stock Market
by and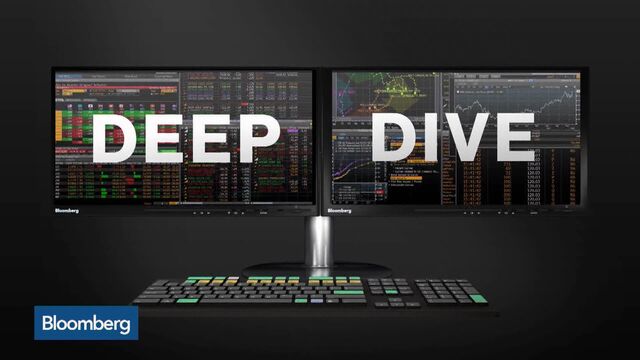 Britain's shock decision to secede jolted Europe's stock markets and resulted in the resignation of U.K. Prime Minister David Cameron.
While investors fled Italy, Spain and Greece the fastest, U.K. companies that rely on international markets for revenue got a boost from a plunging pound. Trading surged around the region, with the Stoxx Europe 600 Index tumbling by the most since the global financial crisis of 2008.
European Stocks Fall More

Even as global markets shook from the impact of Brexit, the U.K.'s main benchmark FTSE 100 Index fell less than regional peers. Exporters including ARM Holding Plc and drugmaker AstraZeneca Plc climbed as the pound plunged to a 30-year low, trimming the U.K. gauge's losses to 3.2 percent. The Stoxx 600 slid 7 percent, while benchmarks of Greece, Italy and Spain -- perceived as the region's riskiest -- tumbled more than 12 percent.
"There's always a knee-jerk reaction, but this particular case is profound and it has an impact from a political perspective," said Guy Miller, chief market strategist in Zurich Insurance Group AG's investment management team. "You have to think longer term: has this changed the way the euro zone is functioning? There's many long-term implications from this vote which are likely to be long lasting. One has to be prepared for high levels of volatility in the months ahead."
Hurt Shows in Local Stocks

The real impact was felt by British mid-cap companies most dependent on the domestic market. The FTSE 250 Index plummeted 7.2 percent, the most since 1987 and twice as much as the FTSE 100. Veronika Pechlaner, who helps oversee $10 billion at Ashburton Investments, says the large-cap index is "not really a good indicator for the U.K. domestic economy" as its many exporters are aided by the weaker sterling. British banks and homebuilders are far more exposed to the uncertainty surrounding the economic impact of an exit.
Traders Rush In

Traders were busier than ever as turbulence was felt across Europe. Almost 18 billion Stoxx 600 shares changed hands today, while volume surged eightfold in FTSE 100 stocks versus the 30-day average. At least one dark pool was suspended.
Lenders Are Losers

Lenders led the selloff, tumbling the most on record, amid doubts about the region's economic outlook and the political future of the EU. Many industry leaders had previously warned that a Brexit could cause them to move thousands of jobs from the U.K., and expressed dismay after the result became clear.
Gold Rush

Gold producers Fresnillo Plc and Randgold Resources Ltd. were the biggest beneficiaries both in the run-up to the referendum as well in the immediate aftermath, as investor demand grew for haven assets including the precious metal. Fresnillo, the best Stoxx 600 performer in June, surged to levels deemed overbought after today's 12 percent boost.
Before it's here, it's on the Bloomberg Terminal.
LEARN MORE