Rajoy May Benefit From Brexit If Spaniards Seek Safe Haven
by
Polls open on Sunday as Spain tries to end six-month impasse

Podemos's support may be hurt if voters decide to avoid risk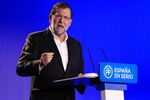 Caretaker Prime Minister Mariano Rajoy could be a key beneficiary from the Brexit vote as the country gears up for a general election on Sunday, with investors reeling from the impact of the U.K.'s decision to leave the European Union.
The euro region's fourth-largest economy is holding its second election in six months with markets tumbling after Thursday's referendum in Britain wrong-footed traders. The pound plunged by a record and the euro slid by the most since it was introduced in 1999 on the result while oil and industrial metals sank. The yen, gold and sovereign debt all soared as investors piled into haven assets.
If Spanish voters follow investors' flight to safety, the result may help Rajoy hang on to his job, according to Madrid-based political consultant Ivan Redondo.
"Brexit could help the prime minister to mobilize a segment of the population who were thinking about staying home until now," said Redondo.
Spain is holding an unprecedented repeat election after political leaders failed to piece together a governing majority from December's vote, which produced the most divided parliament in the country's history. Voters ditched the traditional parties in December in protest at mass unemployment and a wave of corruption among the political class. Polls suggest that at least two groups will need to reach a compromise this time around if lawmakers are going to be able to choose a leader.
Safe Hands
During the campaign Rajoy stressed his experience in government to argue that he was a safe pair of hands to sustain the economic recovery. He said anti-establishment group Podemos, set to post the biggest gains from December, was proposing a dangerously radical policy mix that was a threat to jobs and growth. On Friday morning he drove home that message.
"It's not the time to feed or add to uncertainties," Rajoy said in a televised statement from his official residence. "In these moments, it's particularly important to send a message of institutional and economic stability."
The U.K. is the fourth-largest buyer of Spanish exports and Britons are the biggest group of overseas visitors while about 800,000 British people live in Spain at least part of the year, many of them relying on pensions paid in pounds. Those links leave the Spanish economy exposed to the fallout from the U.K.'s EU exit, according to Raymond Torres, chief economist at Madrid-based Funcas, the Spanish savings bank foundation.
Amid the global selloff, Spanish assets were also hurt on Friday. The extra yield investors demand to hold Spanish 10-year bonds instead of safe-haven German securities jumped 32 basis points to 169 points at 1 p.m. in Madrid, the highest in two years. Stocks fell 11 percent.
New Consensus
The Spanish political class is trying to find a new consensus to guide the country after the old recipe, which emerged after the death of General Francisco Franco in 1975, broke down as the economic crisis revealed an epidemic of corruption among the establishment parties, and Rajoy's People's Party in particular. Rajoy's rivals have said they won't cut a deal to help him stay in power because of his alleged ties to party graft. The prime minister denies any wrongdoing.
With analysts and officials still trying to come to terms with the U.K. decision, Steen Jakobsen, chief economist at Saxo Bank A/S, argued that the populist decision could boost Podemos's challenge to the traditional political powers.
"The Brexit vote will give momentum to anti-establishment campaigns in Spain and in France," Jakobsen said in an e-mailed note to clients.
Still, Podemos leader Pablo Iglesias hasn't positioned himself to capitalize on the U.K. decision. He posted a video message urging British voters to stay in the EU earlier this week.
Opinion Polls
The PP is on track to win about 117 seats in the 350-strong chamber, according to a Gesop survey published by El Periodic d'Andorra Thursday before the results of the Brexit referendum were known. That's down from 123 in December and would be the party's worst result since 1989.
Podemos is running neck and neck with the Socialists, the PP's traditional rivals, for second place. Both are set for about 85 seats according to Gesop, although Podemos is projected to get 23.6 percent of the vote compared with 21.7 percent for the Socialists. The pollster interviewed 900 people between June 20 and June 22 and the margin of error was 3.3 percentage points.
"The fear vote will come into play and that could hurt Podemos," said Redondo.
Ciudadanos, the pro-market party that emerged alongside Podemos in December, may increase its presence to 43 seats from 40 with about 15.2 percent of the vote.
Brexit may also boost support for Ciudadanos and Socialists, according to Redondo, because the less hardcore part of Podemos's vote may opt for a more moderate program to reform the country.
Before it's here, it's on the Bloomberg Terminal.
LEARN MORE