SoftBank's Nikesh Arora Leaving Sprint's Board Immediately
by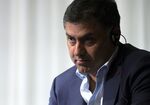 Nikesh Arora, the former heir apparent at SoftBank Group Corp. who stepped down from the Japanese company earlier this week, will leave the board of SoftBank-owned Sprint Corp.
The former Google executive notified Sprint on June 22 that he will resign as a director, effective immediately, according to a regulatory filing.
Shares of Sprint rose this week as investors speculated that the fourth-largest U.S. wireless carrier would get more investment from SoftBank after Arora's departure. Arora had "expressed no clear-cut plan for Sprint during his tenure," Macquarie Group Ltd. analyst Amy Yong said Wednesday in a note. With his departure, Chief Executive Officer Masayoshi Son is committing to running SoftBank for longer than he originally planned. That could be good news for Sprint, as Son has a more long-term vision for the wireless carrier, Yong said.
Buried under $33 billion in debt, Sprint has struggled to make investments to compete with larger rivals such as AT&T Inc. and Verizon Communications Inc. The company has slashed network spending to the lowest level since 2010 and is putting up phones, equipment and airwaves as collateral in loan deals brokered by SoftBank.
Arora had served as a director of the company since November 2014, according to the filing.
Before it's here, it's on the Bloomberg Terminal.
LEARN MORE