U.K. Rating at Risk of Downgrade by Moody's, S&P on Brexit
by and
S&P predicts period of uncertainty that may prevail for years

52% of Britons voted to leave European Union in referendum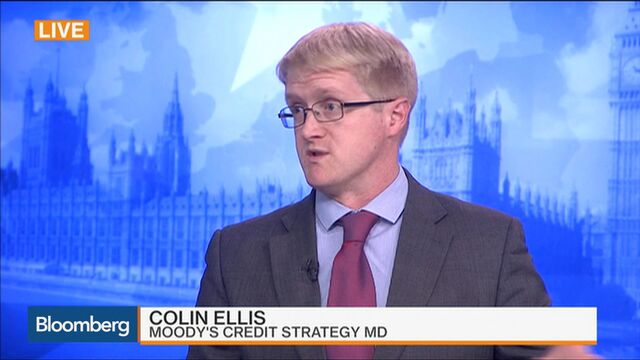 Moody's Investors Service and S&P Global Ratings may lower the U.K.'s credit grade after the country voted to leave the European Union.
S&P will give the country 24-hours notice, including one working day, to lower the rating "at least one notch" from AAA, Moritz Kraemer, S&P's global sovereign chief ratings officer, said in an interview on Bloomberg Television on Friday. Moody's in a report later Friday lowered its outlook on the country to negative from stable, a move toward a downgrade. It has the U.K. one step lower than S&P, at Aa1. At the same time, it affirmed the EU's top rating.
"We think the impact of the decision to leave will be negative for the economy," Kathrin Muehlbronner, the author of the Moody's U.K. report, said in an interview. "Certainly negative because of uncertainty and delay in spending and investment decisions, but also potentially pretty negative in the long-term, depending on what kind of trade agreement the U.K. signs with the EU."
The moves follow Britain's EU referendum, which saw voters choose to quit the bloc by 52 percent to 48 percent as the government's pro-EU campaign lost by more than 1 million ballots. Global markets buckled, infecting every asset class, sending the pound plunging the most on record.
U.K. government bonds surged amid speculation the Bank of England will maintain an easy monetary policy to ward off the risk of recession after the vote.
'Binary' Outcome
Kraemer had said this week that a decision to exit the trading bloc would result in a "pretty much binary" outcome of Britain losing its top rating. BOE Governor Mark Carney said in the buildup to the vote that it was the biggest risk to U.K. domestic financial stability and could cause a recession.
U.K. economic growth slowed in the first quarter and surveys have signaled a further loss of momentum this quarter. The BOE's comments echoed warnings from organizations including the International Monetary Fund and the Organization for Economic Cooperation and Development about the potential negative impact of Brexit.
Before it's here, it's on the Bloomberg Terminal.
LEARN MORE