Viacom Is Stuck Waiting for the Redstone Brawl to End
By
'Unusual' to be working for a CEO battling to keep job

The public nature of the power struggle 'magnifies everything'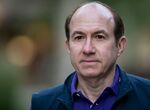 Scattered applause broke out inside the Times Square headquarters of Viacom Inc. Downtown, in another office, cheers went up.
Many employees welcomed news last week that their chief executive officer, Philippe Dauman, might be losing the showdown with his boss, Sumner Redstone. Either that or they were just relieved the epic Viacom power struggle was finally approaching its denouement, with Redstone moving to kick Dauman off the board. Inside the giant media company, the months-long drama has unsettled staff and delayed deals, according to people who work there. Nearly every conversation in executive offices turns to the same question: What next?
The very public nature of the brawl "magnifies everything," said Edward Lawler, director of the Center for Effective Organizations at the University of Southern California. "It feeds the gossip rumors and the gossip mills."
The fight, being waged in three courts, pits a group led by Dauman against one that includes Shari Redstone, Sumner's daughter and vice chairman of Viacom and CBS Corp., media companies worth more than $40 billion. The battle is over who will run Viacom -- the parent of Paramount Pictures and cable-TV channels including MTV and Nickelodeon -- and who will be in charge of the empire when Sumner, the 93-year-old controlling shareholder, dies or is found to be mentally incompetent. Dauman and the Redstones declined to comment.
Still The Boss
For now, Dauman, 62, remains Viacom's CEO, showing up at work and attending to high-profile business. This week he was on the French Riviera at an advertising festival, and next month he's scheduled to be in Sun Valley, Idaho, for the annual Allen & Co. media conference. He called the company "a great place to work" in a recent interview with Fortune magazine.
Dauman is also still chairman. Sumner Redstone may have made the decision to kick him and four of his compatriots off Viacom's board -- to replace them with directors who may install new management -- but Delaware's Chancery Court has to give the OK. That could take months.
"It's a pretty unusual position to be in," working for a company whose CEO seems to have one unwilling foot out the door, said David Larcker, the James Irvin Miller professor of accounting at Stanford Graduate School of Business. "You're not quite sure, when you're in a company that's experiencing this kind of turmoil, how it affects you directly."
Weird Limbo
Viacom acknowledged the fallout when it cut its earnings outlook on June 17, saying it had to postpone making a "significant" video-on-demand deal -- it didn't reveal with whom -- that would have brought in needed revenue.
"The recent and highly public governance controversy negatively impacted the timing," the company said in a statement. A Viacom spokesman said in an e-mail, though, that otherwise it's business as usual: "Every day, Viacom's employees are producing the best creative work in the industry, building our worldwide brands and developing new and innovative ways for audiences to interact with them."
But many employees are functioning in a weird limbo, according to more than a dozen people who work for Viacom and asked not to be identified discussing personnel matters. They wake up nearly every day to a headline about the latest court filing or accusation, submit budget proposals to executives who may not be around in a few months and spend a fair amount of time wondering who in the next row is polishing resumes.

There's been a move in some quarters for the exits, though of course many departures stem from Viacom's ongoing overhaul of several networks, and the natural executive-level ebb and flow.
Comedy Central, Nickelodeon and MTV have each lost a senior executive since May. One of the departed is Michele Ganeless, who ran Comedy Central and oversaw its era of greatest creative fertility with "The Daily Show with Jon Stewart," "The Colbert Report," "South Park," "Key & Peele," "Inside Amy Schumer" and "Broad City." But recently it's been losing viewers.
Dauman has been publicly critical of the network. Ganeless, who had been with the company for 19 years, told colleagues and friends her bosses failed to appreciate the network's creative strength and her efforts to reach out to young viewers through services like Snapchat, according to people familiar with the matter. Ganeless, who said at the time that she was ready to move on to new challenges, declined to comment.
#TeamShari
A Redstone confidante for three decades, Dauman has been CEO since 2006 and chairman since February, when Redstone gave up that post. Within weeks, their relationship soured. In May, Dauman was removed from the board of National Amusements Inc., the Redstone holding company that owns Viacom shares, along with a trust that will ultimately oversee the holdings. Dauman sued to block his removal. Redstone has said he doesn't trust Dauman to act in Viacom's best interests. Dauman's allies have said Redstone isn't mentally competent to make decisions and is being manipulated by his daughter.
The fissure divided the workforce. The CEO has fans inside Viacom, despite sinking revenue and the flagging stock, which was down 39 percent in the past year, compared with a 9 percent drop for the S&P 500 Media Index. They say he should be allowed to stay and implement a turnaround.
But some employees have adopted the hashtag #TeamShari in private messages. They're critical of Dauman on several fronts, including what they perceive as his lack of passion for the creative work they do, current and former employees said. Another bone of contention is his compensation -- $54.2 million in fiscal 2015, when the stock was falling and the company fired several hundred staffers.
Dauman stoked some ire with the Fortune interview, when he said he had "suffered along with shareholders" as the stock tanked and described Viacom as a "fun environment." Anonymous online commentators who said they're Viacom employees pounced, saying it is anything but.
Depending on how various judges rule on suits and countersuits, the strange status quo may not change anytime soon.
"Both winners and losers may to some degree be looking to leave," USC's Lawler said, "because that kind of environment is just not one that people enjoy or want to be part of."