Prime Time for Volatility ETPs Where Trading Surged Pre-Brexit
by
Volume in five most popular securities tops 5% of total trades

VXX jumped as much as 20%, biggest intraday rise since Aug. 24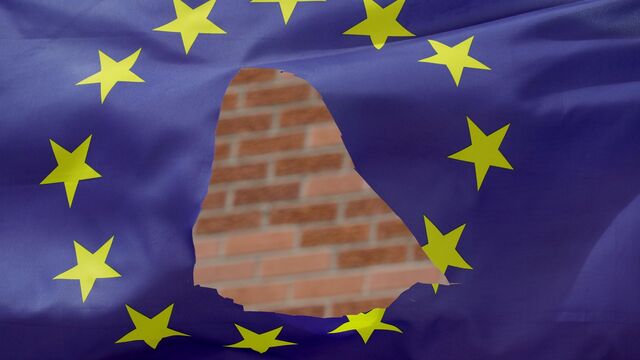 One pocket of the market where skepticism never went out of favor in the weeks before Britain's secession vote is rewarding the faithful in its aftermath.
Exchange-traded products tied to levels of turbulence in the U.S. stock market saw prices surge in record trading Friday, handing a rare payday to investors who bought them either to protect against losses or speculate on an equity selloff.

Securities such as the iPath S&P 500 VIX Short-Term Futures ETN and VelocityShares Daily 2x VIX Short Term ETN jumped as much as 35 percent after investors were blindsided by Britain's vote to leave the European Union. Risk aversion fueled record volume in five of the most popular securities tied to equity volatility, surging to 5.2 percent of total trading on U.S. exchanges, data compiled by Bloomberg show.
The victory for the "Leave" campaign prompted Prime Minister David Cameron to resign, stunning many investors who'd put wagers on riskier assets over the past week as bookmakers' odds suggested the chance of a so-called Brexit was less than one in four. U.S. stocks joined the selloff with the CBOE Volatility Index jumping 34 percent, after earlier soaring as much as 52 percent.
"They're a very easy way to hedge a portfolio that might be net long," Matt Lloyd, chief investment strategist at Advisors Asset Management, which oversees $16.5 billion in Monument, Colorado. "People were prepping for this kind of move along the way. What we're seeing right now is a little bit of profit taking on those and probably utilizing those proceeds to either wait till Monday or to put some of it to assets that have sold off."
The securities are tied to fluctuations in VIX and are major users of futures linked to the gauge. Friday morning, the CBOE said an estimated 235,000 VIX futures contracts changed hands during non-U.S. trading session overnight, surpassing the prior record from last August.
Volume on the products exploded in the lead up to the referendum. Trading in the volatility-linked ETPs reached a record of more than 4 percent of total volume last week, data compiled by Sundial Capital Research Inc. and Bloomberg. show.
Shares outstanding in iPath ETN, called VXX, and the VelocityShares Daily 2x note, known as TVIX, jumped to records on June 13. At the same time, hedge funds were short VIX futures by the most in almost three years as recently as June 7, according to weekly data from the Commodity Futures Trading Commission.
Short-sellers had dramatically reduced bets volatility would fade. Bearish bets on VXX are near the three-year low of 10 percent reached at the end of May, data compiled by Markit Ltd. show. For TVIX, short interest is at 32 percent, the lowest in almost a year.
Before it's here, it's on the Bloomberg Terminal.
LEARN MORE