Gross, Ivascyn See Flight to Havens in Historic Brexit Jolt
By and
Investors should turn to safe bonds, away from stocks: Gross

Buying opportunities may soon emerge, says Pimco's CIO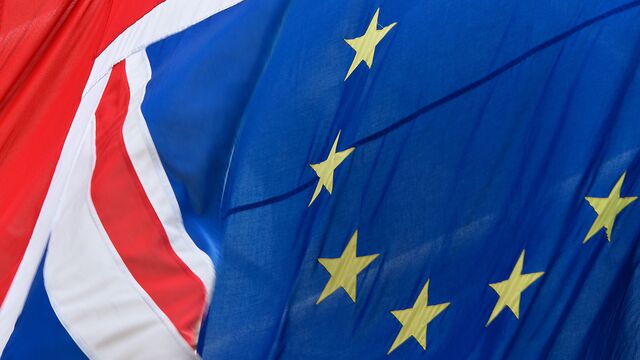 Investors should turn toward havens like bonds and away from stocks as markets sort through the repercussions of the U.K. referendum to exit the European Union, according to money managers Bill Gross and Dan Ivascyn.
"Obviously safe-haven bonds instead of equities will benefit," Gross, manager of the $1.4 billion Janus Global Unconstrained Bond Fund, said in an e-mail. "Global economies may quickly molt their free-trade skins and immigration policies are at risk."

Global markets buckled, with stocks plunging from Tokyo to London and Chicago, after a majority of Britain's voters favored leaving. The pound plunged by a record, the euro slid by the most since it was introduced in 1999 and the yen had its biggest surge against the dollar since 1998. Gold soared with U.S. Treasuries as investors piled into haven assets.
Investors should position themselves for high volatility and low long-term returns, according to Ivascyn, group chief investment officer of Pacific Investment Management Co.
'Worrisome Theme'
"This is a worrisome theme for risk assets over the long term," Ivascyn said in a phone interview. "It's clearly a risk-off event. If things get too out of hand, we'd view it as a potential buying opportunity over the short- to mid-term."
Vineer Bhansali, who left Pimco last year to start his own investment firm called Longtail Alpha, which seeks to hedge against unexpected shocks to the market, said in an e-mail that the market moves he is observing are the proverbial "tip of the iceberg."
Bhansali said he is "starting to sense a larger unraveling of markets not ready for such a shock especially coming from historically low levels of risk priced in."
The U.K. vote is part of a global backlash against business and political elites that is also evident in the popularity of Donald Trump's presidential campaign and the resignation last week of the governor of India's central bank, according to Mohamed El-Erian, chief economic adviser to Allianz SE.
'Major Instability'
---

For full coverage of the referendum, click here
---
"You're suddenly superimposing major instability on top of economic fragility and artificial financial markets," El-Erian, who's also a Bloomberg View contributor, said in a telephone interview. "You can expect significant economic, financial and political turmoil."
El-Erian said there is a danger that asset managers who bet on the U.K. remaining in the EU could get into trouble. Levered accounts in particular are vulnerable.
"We will see a lot of margin calls," he said Friday on Bloomberg Television.
Pimco, which oversees $1.5 trillion and where Gross and El-Erian once served as co-CIOs, said in a long-term economic outlook report this month that rising instability and volatility will reward active managers rather than investors who place their money in passively run indexed funds.
Jeffrey Rosenberg, chief investment strategist for fixed-income at BlackRock Inc., said the U.K. vote is important because economic growth is fragile.
"A shock to economic growth is what this is all about," he said Friday on Bloomberg Radio. "It's a confidence shock" that will drive investors to safe havens.
As markets tumbled in response to the historic vote, money managers in Asia braced for more turmoil as they reduced stock positions. Seth Fischer, founder of Hong Kong-based Oasis Management Co., said he sold the Nikkei index as "it is too high in dollar terms." Fischer also said many investors have gotten cautious to the point of seeking to eliminate risk altogether.
"So it's not 'risk off', but for most, it's 'no risk'," Fischer said.
Tokyo-based hedge fund Asuka Asset Management Co. said Brexit would reverberate across the globe, hurting Japanese companies that have factories in the U.K, such as Nissan Motor Co.
"If the EU breaks up, there will be a financial crisis coming," said Toshihiro Hirao, a portfolio manager at Asuka, which manages $271 million. "This is a worst-case scenario."