Obama Says Brexit Outcome Shows Challenges of Globalized Economy
By and
President says he expects 'orderly transition' from EU

Obama spoke with U.K.'s Cameron and Germany's Merkel today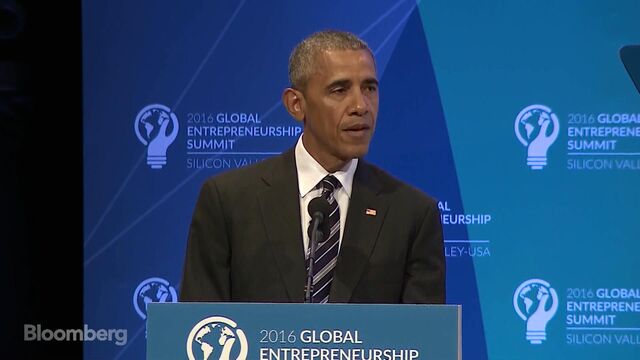 President Barack Obama said Friday that Britain's vote to exit the European Union is a demonstration of the challenges of globalization, and he reiterated that the U.S. "special relationship" with the country would persist.
Obama said that he spoke with U.K. Prime Minister David Cameron and German Chancellor Angela Merkel earlier in the day about Britain's transition from the EU.
"I'm confident that Britain is committed to an orderly transition out of the EU," Obama said at Stanford University in Palo Alto, California.
He praised Cameron, who announced his intention to step down as prime minister today, as an "outstanding friend and partner on the global stage."
Obama spoke as global markets were in turmoil over the so-called Brexit. The S&P 500 index was down about 2.9 percent at 2:04 p.m. in New York. The pound plunged by a record, taking the euro with it. U.S. Treasuries rose as investors sought safer bets.
The American president had traveled to London in April to implore voters to reject a British exit, or Brexit. His was among voices spurned by voters angered by waves of immigrants, economic stagnation and what critics called an unresponsive EU bureaucracy.
Obama planned to continue with his schedule Friday in California. He spoke at a meeting of about 1,200 entrepreneurs from 170 countries at Stanford, and will hold a panel discussion with Facebook Inc. founder Mark Zuckerberg.
Before it's here, it's on the Bloomberg Terminal.
LEARN MORE