Nike Dispute With Runner Puts Penalty Clauses in Limelight
by
Company drops Boris Berian lawsuit ahead of Olympic trials

Berian won support of fellow runners in fighting Nike deal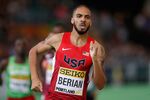 U.S. middle-distance runner Boris Berian is free to wear the shoes of his choosing at the Olympic trials next week, after Nike Inc. dropped a breach of contract lawsuit against the 800-meter star.
The case centered on clauses in sponsorship contracts that cut the base salaries of signed athletes if they're injured. The practice, known as reduction, is standard in the industry, Nike said. Nike's terms to match New Balance Inc.'s offer to Berian had several such reduction clauses, which would've cut Berian's base salary by 20 percent to 50 percent were he to get injured, perform poorly or fail to wear Nike branding. New Balance didn't have those terms.
Berian accepted New Balance's offer in January and began wearing NB-branded gear after his deal with Nike expired on Dec. 31. Nike said it had the right to match any competing offer within 180 days -- which the sportswear company said it did with a three-year, $405,000 offer. Nike sued for breach of contract in April, but dropped the case Thursday while insisting its argument would've held up in court.
"As a running company, we also recognize that this is a significant time for Boris and in light of the judge's decision to delay the ruling until June 28th, the eve of the Olympic Trials, we decided to eliminate this distraction for Boris," Nike said in a statement.
Merhawi Keflezighi, Berian's agent, said they weren't expecting Nike to drop the lawsuit and the decision came as a "pleasant surprise."
"Both Boris and I are very relieved and happy to hear Nike's decision," Keflezighi said.
Fellow 800-meter specialist and ex-Nike runner Nick Symmonds tweeted in early June that Nike's reduction clauses were one of the reasons why he signed with Brooks Sports Inc. in early 2014.
Symmonds, along with Brooks marketing manager Jesse Williams and Oiselle Running Chief Executive Officer Sally Bergesen, filed depositions supporting Berian. Both Williams and Bergesen said that reduction clauses aren't standard in track and field contracts.
Nike's lawyers argued in court filings that Keflezighi didn't disclose New Balance's lack of reductions to Nike.
Flipping Burgers
The case was particularly trying for Berian. Before emerging with a 1:43.34 run in the 800 meters, Berian worked at a McDonald's in Colorado to support himself while he trained. Keflezighi created a crowd-funding page on June 21 to help Berian pay his legal fees, which the agent said could exceed $25,000. Prior to Nike dropping the lawsuit, the page had raised $5,247.
Berian is now free to negotiate with any sportswear company. He's leaning towards a sponsorship deal with New Balance, Keflezighi said.
"Boris has a great appreciation for New Balance products and the way they support the athletes," he said. "So that's his first preference, and that's what we're exploring."
Before it's here, it's on the Bloomberg Terminal.
LEARN MORE