Icy Desserts Are Hot This Summer
Cool down with a nice halo-halo, raspado, or granita.
By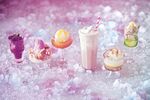 Blackberry Granita
Washington School House Hotel
Park City, Utah
Washington School House started life in 1889 as—you guessed it—a schoolhouse. Today, it's a 12-room boutique hotel with a guests-only restaurant specializing in American standards, including a sweet blackberry granita made with local honey, fruit, and mint picked from the garden. Bonus: Enjoy the tart treat while lounging at the property's hillside-perched pool. Complimentary for hotel guests; washingtonschoolhouse.com
Halo-Halo
Pig and Khao
New York
Top Chef alum Leah Cohen took a traditional dessert from the Philippines (her mother's home) and made it her own. She starts her halo-halo with shaved ice, then adds flan, shredded coconut, and caramelized plantains. A scoop of purple-yam ice cream crowns the dish, which she then drowns in a mixture of condensed and evaporated milks and garnishes with toasted crispy rice. "It tastes like an adult bowl of cereal," Cohen says. $8; pigandkhao.com
Mezcal Mango Slushee
Marin Restaurant & Bar
Minneapolis
This spot features a rotating menu of frozen slushees based on the raspado, a Mexican shaved-ice dessert. Marin's current iteration combines the smokiness of mezcal and the sweetness of fresh mango purée, plus a bit of heat from ginger liqueur and house-made Sriracha salt. The cocktail is strained over hand-shaved ice into an elegant coupe glass. $10; marinrestaurant.com
Bourbon Cabinet
Barrel House American Bar
Beverly, Mass.
The bourbon cabinet served here blends Evan Williams 100-proof bourbon, syrup from Luxardo cherries, and vanilla ice cream. (No ice, per se, but who really cares?) The inspiration for this adult milkshake comes from the classic Manhattan. "Cocktail bars can often take themselves a little too seriously," says managing partner and bartender Sean Maher. "These help keep the atmosphere fun and relaxed." $12; barrelhousebeverly.com
Piña Colada
L'Appart
New York
Chef Nicolas Abello serves a piña colada-inspired palate cleanser before dessert that he says offers "an interplay of tropical spices with classic French cuisine." The bottom layer is an intense rum gelée; Abello tops that with a roasted pineapple smoothie and finishes it with coconut-milk granita and kaffir lime zest. $18; lappartnyc.com
Pineapple Crushed Ice
Restaurant 1833
Monterey, Calif.
Pastry chef Ben Spungin introduced pineapple crushed ice with burnt-cinnamon-stick ice cream to the "secret menu"—usually reserved for locals and regulars—in May. He roasts cinnamon sticks for his ice cream in a wood-burning oven. Then he juices pineapples and combines the liquid with lime, sugar, and water, freezes it in sheet pans, and scrapes it into a slush. The acidic, refreshing, sweet pineapple cuts through the richness of the ice cream, which is perfumed with a drizzle of tarragon oil made from local organic herbs. $6; restaurant1833.com
Four Ways to Chill Out
Granita: An Italian shaved-ice dessert that can be flavored with anything from fruit or herbs to coffee. Its name derives from granite, referring to its grainy texture.
Halo-Halo: This means "mix-mix" in Tagalog, one of the official languages of the Philippines. It's traditionally served with condensed milk, tapioca, sweet beans, and corn, and garnished with a slice of flan and a scoop of purple-yam ice cream.
Raspado: Most Latin American countries have a version of shaved ice. This Mexican variety is typically sold by street vendors, who scrape ice by hand and top it with ingredients like flavored syrups, fruit, chili powder, and lime.
Cabinet: A Rhode Island milkshake, sensibly named for the place you store your blender.
Before it's here, it's on the Bloomberg Terminal.
LEARN MORE