Hulk Hogan Appointed to Gawker Unsecured Creditors Committee
Tiffany Kary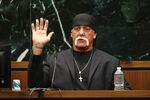 Hulk Hogan, whose invasion-of-privacy lawsuit drove Gawker Media LLC into bankruptcy, was named to the official committee of unsecured creditors in the web company's Chapter 11 case.
The former pro-wrestler is listed under his real name, Terry Gene Bollea, on the roster of committee members filed Friday in Manhattan bankruptcy court by the U.S. Trustee, who chooses members of the panel.
Official committees, whose expenses are paid by the bankrupt company, can negotiate on behalf of creditors and influence the outcome of a case. In this instance, Gawker has said it's seeking to sell its assets free and clear of legal liabilities at and auction next month.
The digital media company filed for bankruptcy this month after losing a $140 million verdict for posting snippets of a sex tape featuring Hogan. Gawker appealed the verdict.
The bankruptcy is In re Gawker Media LLC, 16-11700, U.S. Bankruptcy Court, Southern District of New York (Manhattan).
Before it's here, it's on the Bloomberg Terminal.
LEARN MORE