HSBC, Standard Chartered Lead Asia Bank Rout as U.K. Votes 'Out'
by
Japanese banks tumble as yen's surge triggers equity rout

Banks have warned of U.K. job cuts in case of Brexit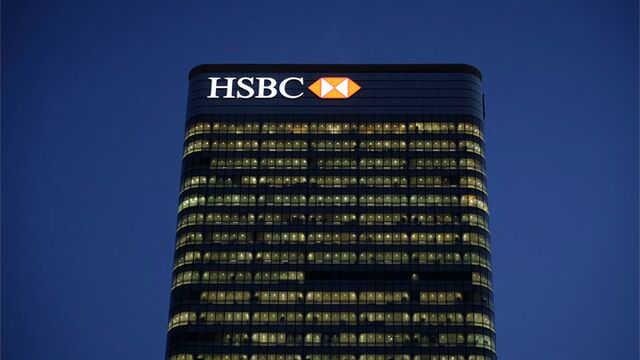 U.K. lenders HSBC Holdings Plc and Standard Chartered Plc plunged in Hong Kong trading, leading Asian bank shares lower as Britain's vote to exit the European Union touched off turmoil across financial markets.  
HSBC fell as much as 11 percent, its biggest decline since 2009. Standard Chartered slid as much as 13 percent, the most since 2012. London-based insurer Prudential Plc tumbled 11 percent. The Hang Seng Index was down 4.7 percent as of the midday local-time break in trading.
Financial markets convulsed as investors dumped the pound and equities and piled into safe-haven assets like gold and the yen. Senior bankers from JPMorgan Chase & Co.'s Jamie Dimon to HSBC's Stuart Gulliver had warned that a Brexit could cause them to move thousands of jobs from the U.K. 
Brexit "is sure to be very disruptive in the short term and a drag on economic growth and employment in the longer term -- especially for the U.K.," said Tim Adams, the head of the Institute of International Finance, a global association of the financial industry, counting about 500 members from about 70 countries.
Japan's Woes

Japanese banks plunged as a surge in the yen triggered a rout of the nation's shares. Mitsubishi UFJ Financial Group Inc. dropped as much as 11 percent, the biggest intraday decline since the aftermath of Japan's earthquake and tsunami in March 2011. Sumitomo Mitsui Financial Group Inc. slid as much as 9.9 percent and Mizuho Financial Group Inc. lost 8.2 percent. Nomura Holdings Inc. tumbled 11 percent.
HSBC, which fell on Friday to the lowest since 2009, would be hurt in any post-Brexit recession in the U.K. because of a likely jump in unemployment and slumps in housing prices and the currency, Sanford C. Bernstein & Co. analysts said ahead of the vote.
The slump in Standard Chartered's shares contrasted with Bernstein's more positive assessment of that bank's prospects because of its lack of any "material" exposure to the U.K. Lloyds Banking Group Plc is the bank most tied to the British economy, followed by Royal Bank of Scotland Group Plc, according to the analysts.
HSBC would probably move about 1,000 investment bankers to Paris in the event of an exit, Chief Executive Officer Gulliver said in February.
Dimon's Take
"If the U.K. leaves the EU, we may have no choice but to re-organize our business model here," Dimon, the chief executive officer of JPMorgan, said this month while visiting the U.K. "Brexit could mean fewer JPMorgan jobs in the U.K. and more jobs in Europe."
---

Live coverage of the results from all parts of Britain
---
The Bloomberg Asia Pacific Banks Index, which doesn't include the two London-based lenders, lost 3.6 percent, the most since September. 
It was only four months ago that HSBC said it will maintain its headquarters in London, a move that helped underscore the city's status as a global financial hub. The decision, after 10 months of deliberations, came after concessions from the U.K. government on regulation and taxes. HSBC made about a third of its 2015 revenue in Europe.
Morgan Stanley
Ahead of the vote, Morgan Stanley indicated it could shift its local headquarters to Dublin or Frankfurt after a Brexit. Citigroup Inc. would "rebalance" its European operations, a company memo showed.
Deutsche Bank AG chief executive officer John Cryan said last month that it would be "counter-intuitive" to trade euro zone products such as Italian government bonds out of London if Britain was no longer part of the EU.
In the case of HSBC, the relocated positions would be in the global banking and markets unit, which employs about 5,000 people in London, Gulliver said, citing requirements under MiFID II, the EU rules covering everything from derivatives trading to bond pricing.
Japanese brokerage Daiwa Securities Group Inc. said it would need to set up a business in the EU that replicated or replaced some functions in London, according to a memo to employees ahead of the vote. Under European banking law, financial firms not based in the EU need an authorized presence to do business there.
Before it's here, it's on the Bloomberg Terminal.
LEARN MORE