Hong Kong Stocks Tumble Most in Four Months as HSBC Leads Losses
by and
HSBC, Standard Chartered Decline More Than 6 Percent

Li K-Shing's Cheung Kong Infrastructure Falls Most Since 2012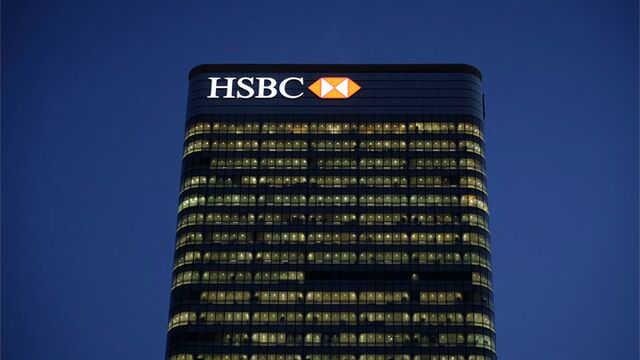 Hong Kong stocks plunged, led by HSBC Holdings Plc and Standard Chartered Plc, after the U.K.'s vote to leave the European Union spurred global market turmoil.
The Hang Seng Index slumped 2.9 percent at the close, its biggest drop since Feb. 11, on volumes that were more than double the 30-day average. It earlier sank as much as 5.8 percent. HSBC, which gets a third of its revenues from Europe and has the second-largest weighting on the Hong Kong stock gauge, declined 6.6 percent. London-based Standard Chartered capped its biggest slump in almost four years. The pound plunged the most ever as a final tally showed 52 percent of U.K. voters opted to leave the EU.
Many companies in the former British colony have strong ties to the former ruling power, including parts of Li Ka-Shing's empire, according to Partners Capital International Ltd., while the broader impact of a so-called Brexit would also hurt European firms listed in the city, said Jefferies Group LLC. Friday's declines come after the Hong Kong benchmark measure climbed for the past five days, with HSBC jumping almost 10 percent, as polls boosted speculation the U.K. would vote to remain in the European bloc.
"There's been some panic," said Jackson Wong, associate director at Huarong International Securities Ltd. in Hong Kong, who received selling orders from concerned investors once the results tilted towards Britain's exit. "It was pretty much a sure thing that Britain would remain, and even this morning the polls were showing that remain was slightly leading at one point. But it all went downhill from there."

Preparations Made
The Hang Seng Index fell to 20,259.13, snapping a five-day, 4.1 percent advance. The Hang Seng China Enterprises Index, a measure of mainland companies traded in Hong Kong, retreated 2.9 percent. The Shanghai Composite Index dropped 1.3 percent, extending its loss this year to 19 percent. The offshore yuan slid 0.8 percent, its biggest decline since January.
While Hong Kong markets were being sold off, mainland investors piled in through a stock link program with Shanghai, using up more than half the available daily quota -- the most since April last year. The flows didn't reciprocate, with foreigners being a net seller of mainland stocks.
Li Warning
The unexpected Brexit outcome buckled global markets. Sterling tumbled as much as 11 percent, the euro slid by the most since it was introduced in 1999 and the yen surged. Oil sank almost 4 percent to about $48 a barrel and industrial metals slumped. Gold soared with U.S. Treasuries as investors piled into haven assets.
Hong Kong has made preparations and has adequate liquidity for whatever the result is of the Brexit vote, Radio Television Hong Kong reported, citing Financial Secretary John Tsang.
"Hong Kong is a very open market so if anyone wants to exit, it's very easy," said Ronald Wan, chief executive at Partners Capital in Hong Kong. "It's more vulnerable than other markets."
Billionaire Li's Cheung Kong Infrastructure Holdings Ltd., which received 28 percent of its revenue from the U.K last year, sank 5.5 percent, the second-biggest loss on the Hang Seng Index and its biggest decline since 2012.
Li, Hong Kong's richest man, had this week called for Britons to vote in favor of staying in the EU. As one of the U.K.'s biggest investors, Li has much at stake. He said three months ago he would scale back investments in the the country if Britain broke away.
Bearish Bets
"If Brexit happens, it will be detrimental to the U.K. and it will have a negative impact to the whole of Europe," Li told Bloomberg Television's Angie Lau in an interview. "Of course I hope that the U.K. doesn't leave the EU."
PetroChina Co. declined 4.4 percent in Hong Kong to lead losses by energy producers as oil tumbled. Galaxy Entertainment Group Ltd. paced declines by Macau casino operators. Li & Fung Ltd., the sourcing company that supplies clothes and toys to U.S. retailers such as Wal-Mart Stores Inc., sank to a 12-year low.
While investors have focused on Brexit this week, concerns about China's economic slowdown helped send bearish bets on the largest exchange-traded fund tracking the nation's shares in Hong Kong to the highest level since March 2015. Data on the nation's industrial profits and manufacturing are expected next week.
Before it's here, it's on the Bloomberg Terminal.
LEARN MORE