Here's What Finance Leaders Have Said After the Brexit Decision
by
European bank index posts record drop; U.S. firms also fall

JPMorgan CEO reiterates he will move jobs away from U.K.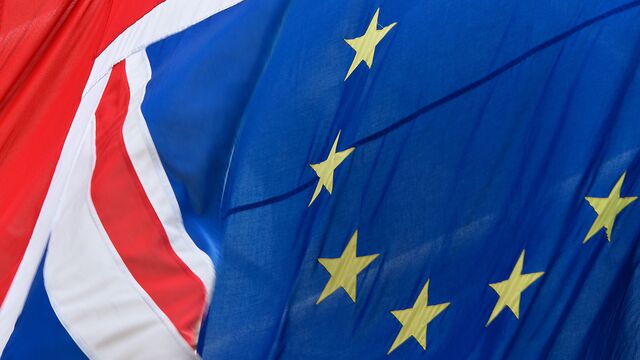 Financial-services firms have plunged around the world after Britain became the first country to quit the European Union, exacerbating concerns about the industry's growth prospects and the future of London as a financial center.
Analysts at JPMorgan Chase & Co. estimate banks exposed to the U.K. could see a 20 percent hit their earnings with a 17 percent impact on pretax profit for Deutsche Bank AG and 21 percent for Credit Suisse Group AG as deals, bond issuance and trading take a dip.
Credit rating companies were equally pessimistic. S&P Global Ratings is preparing to remove the U.K.'s top credit grade, while Moody's Investors Service forecasts a "prolonged period of policy uncertainty that will weigh on the country's economic and financial performance." Fitch Ratings Ltd. said the country's "status as a major international banking hub could be damaged as some business lines shift to the EU."
---

For full coverage of the referendum, click here
---
Here's what the heads of the biggest institutions said about Brexit on Friday:
* JPMorgan Chief Executive Officer Jamie Dimon said the lender may need to change its European legal entity structure and relocate some jobs, while pledging to maintain "a large presence" in the U.K. Earlier this month he said up to a quarter of its 16,000 British workers may have to move. The CEO also warned of a period of market volatility, a common concern among top executives.
* Credit Suisse's Tidjane Thiam predicted choppy trading conditions, but "no immediate legal implications" for its U.K. clients or employees. "We expect this market volatility to stay with us for some time as the macroeconomic and political environment adjust to this new reality," the CEO said.
* Deutsche Bank CEO John Cryan said it's "not such a good day for Europe" and that "we cannot fully foresee the consequences, but there's no doubt that they will be negative on all sides."
* Barclays Plc CEO Jes Staley, in the role for only six months, said that the bank's strategy we announced on March 1, "was not conditional on the U.K. remaining in the EU" and that it remains "a transatlantic consumer, corporate and investment bank, anchored in the U.K. and the U.S."
* HSBC Holdings Plc Chairman Douglas Flint said we are "entering a new era for Britain and British business" and that "the work to establish fresh terms of trade with our European and global partners will be complex and time consuming." HSBC's stock fell less than its more U.K.-focused rivals.
* Goldman Sachs Group Inc. head Lloyd Blankfein said the bank has a "long history of adapting to change" and has planned for either outcome "for many months." He's waiting to see the terms of the exit before making any decisions.
* Royal Bank of Scotland Group Plc said it was "business as usual" and was seeking to reassure customers and staff. The lender said it has no current plans to change where or how it operates, adding that it would work through the implications of the vote with the British government.
* Lloyds Banking Group Plc CEO Antonio Horta-Osorio told employees the outcome of the poll won't change his strategy. He said the bank will "work at pace" on its contingency plans, work to reassure customers, and tell them Lloyds is one of the U.K.'s best-capitalized banks.
* UniCredit SpA is "prepared to face the volatility" and sees no U.K. economic growth in 2017, down from a 2.1 percent pre-referendum estimate, according to Gianni Franco Papa, deputy general manager and head of corporate and investment banking. Nevertheless, the Italian bank is committed to remain in the U.K. and is "confident that London will remain a worldwide financial center," he said.
* Banco de Sabadell SA, which owns U.K. lender TSB Banking Group Plc, said the vote won't affect its strategy in the country. Chairman Josep Oliu said he hopes new EU-U.K. relations guarantee "positive economic evolution mid- to long-term."
* Societe Generale SA CEO Frederic Oudea said the bank is mulling whether to move 200 to 300 people to Paris from London, but is "not going to hurry" any decision. However, financial firms "uniquely based in London" will likely have to take decisions "relatively quickly" to rebalance operations and staff from London to other cities, he said.
* Rabobank, the Dutch bank that has about 500 London staff, said it's too early to say if it'll withdraw from the U.K.
* Aberdeen Asset Management Plc CEO Martin Gilbert said it's best "to do nothing" after the Brexit vote. It's not the time for "knee-jerk reactions, but rather it's important to have a calm head on behalf of clients," he said.
*Old Mutual Global Investors CEO Richard Buxton said "investors should now brace themselves for an unpleasant period of relatively indiscriminate selling," while "the prospects for domestically focused U.K. businesses are clearly the bleakest of all."
Before it's here, it's on the Bloomberg Terminal.
LEARN MORE