Gross Says Brexit Will Put Off Fed Hike, Possibly Through 2017
By
Predict's Draghi will do what it takes to protect euro zone

Says mortgage, agency bonds a good bet with 2%-3% coupon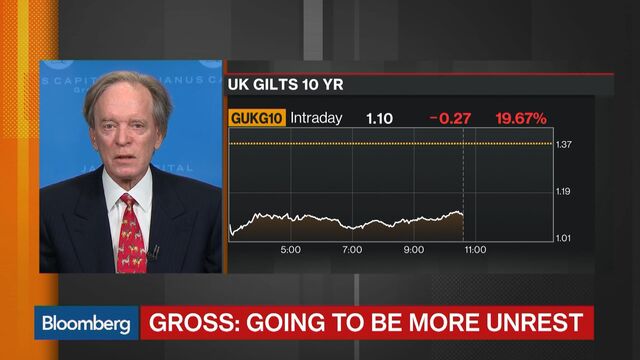 The Brexit vote probably will end the chances for a Federal Reserve rate hike this year and perhaps through 2017, according to Bill Gross, the bond manager who has been warning that low rates are hurting global growth.
"Not at the moment in the face of this," Gross said in an interview with Erik Schatzker on Bloomberg TV Friday.
Gross, who manages the $1.4 billion Janus Global Unconstrained Bond Fund, said he expects European Central Bank President Mario Draghi to work to keep peripheral countries, such as Spain and Italy, within the euro zone.
"Draghi will be there to catch them in terms of policy," he said. "I don't want to start shorting Spanish or Italian bonds. You can expect the ECB to continue to buy corporate bonds to keep spreads narrow."
Spanish and Italian bonds fell Friday, with yields on Spanish debt reaching their widest margin compared with the German Bund since March 2015, when the European Central Bank began its bond-buying program to spur growth. Germany's bunds climbed, pushing 10-year yields to a record low, as investors sought the relative safety of Europe's benchmark sovereign debt.
Draghi's Moves
The ECB will also continue to "buy Spanish and Italian bonds to promote a sense of stability," Gross said. "That is what central bankers have tried to do for the last five or six years to promote low volatility and it has worked. Now it is working less."
Gross said U.S. mortgage-backed securities are a safe haven for investors because they offer higher yields than Treasuries.
"Mortgages aren't a bad deal," he said. "Mortgage-backed securities is a 2 percent coupon or a 3 percent coupon. It trades 100 basis points more than a Treasury. That's almost a doubling in terms of the yield for basically the same kind of credit."