Gold Delivers on Day of Tumult as Brexit Supports Bull Case
Bloomberg News
U.K. vote boosts outlook for bullion as Fed goes slow on rates

Global holdings in ETFs increase 30% this year as price jumps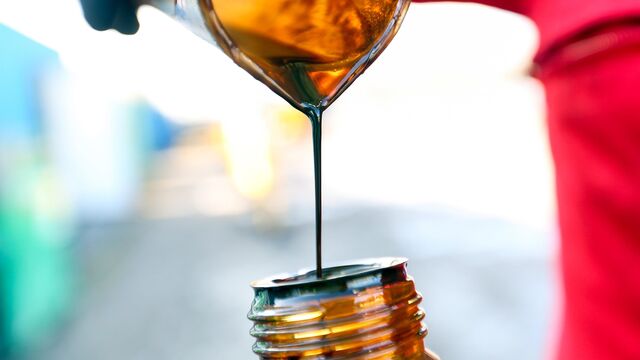 Gold delivered and more gains may be on the cards.
As global financial markets were cast into turmoil by Britain's decision to quit the European Union, the commodity that's known above all else for its role as an investment refuge rewarded backers with the biggest surge since the global financial crisis in 2008.
"Gold is doing what an asset like gold should do, " said Dominic Schnider, head of commodities and Asia-Pacific foreign exchange of the wealth-management unit at UBS Group AG. "Gold has delivered what it promised: doing extremely well in adverse times. The question is, is there a longer-lasting effect?"

The rupture triggered by U.K. voters' desire to reframe Britain's relationship with the world's largest trading bloc comes after Federal Reserve policy makers have held fire on rate rises that they began last year and central bankers in Europe and Japan embrace negative interest rates. That's all added to the investment case for the precious metal, and holdings in exchange-traded funds have surged 30 percent this year.
"We're still facing the situation where the FOMC is on hold and with this, they will be even more on hold," said Ole Hansen, head of commodity strategy at Denmark's Saxo Bank A/S, referring to the rate-setting Federal Open Market Committee. "The market has been caught completely unprepared."
For a QuickTake explainer on why Britons opted for Brexit, click here.
Gold Price
Bullion for immediate delivery jumped as much as 8.1 percent, the most since September 2008, according to Bloomberg generic pricing. It pared some of the gains to trade up 4.8 percent at $1,317.01 by 11:15 a.m. in London, near a peak reached on June 16.
Societe Generale SA predicted before the vote that a decision to leave may spur a rally in gold to as much as $1,400 an ounce amid heightened volatility. The long trade was expected to be particularly effective even following the announcement of a Brexit, the bank said, flagging the potential for further gains beyond Friday.
"The heightened market uncertainty will prompt investors to seek safe-haven assets, benefiting gold and the rest of the precious metals," Mark Keenan, head of commodities research for Asia at SocGen, told Bloomberg on Friday. "While, arguably, some of this uncertainty has already been priced in, there is likely much more to come."
ETF Holdings
Bullion holdings in ETFs kept expanding in the run-up to the Brexit vote, rising even as prices dipped in the first four days of this week. The assets were little changed at 1,904.6 metric tons on Thursday, near the highest level since October 2013, according to data compiled by Bloomberg. They're up 443 tons in 2016, following three years of declines.
As financial markets were blindsided on Friday and the potential repercussions of the U.K. decision began to sink in, bullion shone. "You buy gold and you sit tight," said Vishnu Varathan, a senior economist in Singapore at Mizuho Bank Ltd., who also backed purchases of yen and U.S. Treasuries. "All hell is breaking loose."
— With assistance by Jasmine Ng, and Ranjeetha Pakiam
Before it's here, it's on the Bloomberg Terminal.
LEARN MORE