Five Charts to Watch in the Aftermath of the Brexit Vote
Reverberations across global markets.
by and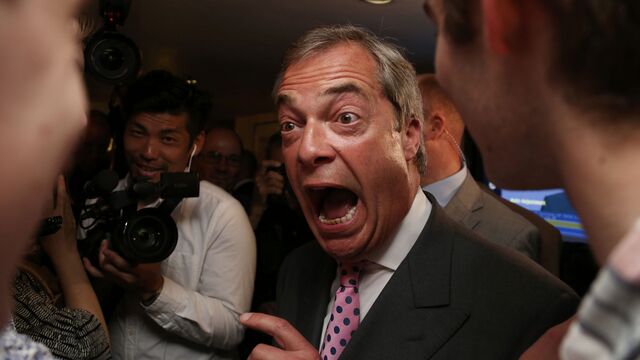 Britain's historic decision to leave the European Union has provoked a sharp reaction in markets.
While the pound plunged to its lowest in more than 30 years and FTSE 100 futures suggest a sharply lower opening for U.K. stocks on Friday morning, the impact of the vote is being felt across global markets. Here are five charts to keep an eye on as the trading day unfolds.

Money markets

A gauge of where bank borrowing costs will be in the months ahead, known as the FRA/OIS spread, reached the highest level since 2012. Bank of Japan Governor Haruhiko Kuroda is the first central banker to say that he stands ready to provide sufficient liquidity, including using cross-currency swap arrangements, to ensure stability. Results of the vote mean Bank of England Governor Mark Carney is now on the front lines of preventing a Brexit-spurred financial crisis.

Volatility getting more volatile

Volatility as measured by the Chicago Board Options Exchange's Volatility Index — better known as the VIX — had dropped ahead of the vote as polls showed the 'Remain' camp taking a narrow lead. With a vote for Brexit now secure, expect the VIX index and its derivatives to increase.

Safe haven FX
The fallout from Brexit is rippling across foreign exchange markets, with safe haven currencies gaining. The Japanese yen is the best performer among G10 currencies, registering its biggest intraday gain versus Norway's oil-dependent krone on record. The Japanese yen has also jumped past 100 per dollar for the first time since 2013. Meanwhile, the U.S. dollar is advancing versus another commodity currency, the aussie, while the Swiss franc gains on the euro, which has come under acute pressure following the referendum. Well ahead of the vote, HSBC Holdings Plc Head of Global Currency Strategy David Bloom indicated that the franc, in addition to the pound, was another good gauge of the risk of a Brexit.

China and the renminbi 

The Chinese renminbi, meanwhile, has weakened to its lowest level versus the greenback since 2011. Worries of currency softness in the world's second-largest economy invoke bad memories of the market turmoil in 2015 stemming from the August devaluation of the renminbi. Measures of the one-month volatility of this pair implied by options prices have also jumped in the wake of the referendum results.

Futures and eurodollars

The active S&P 500 futures contract is plummeting in the wake of Britain's vote. The December 2016 eurodollar futures contract — which is used to gauge market expectations for the path of the Federal Reserve's policy rate — is advancing, suggesting that traders anticipate less tightening from the U.S. central bank by year-end.

Before it's here, it's on the Bloomberg Terminal.
LEARN MORE